NYUAD moves commencement ceremony date
Posted on December 6, 2013 | by Michael Domanico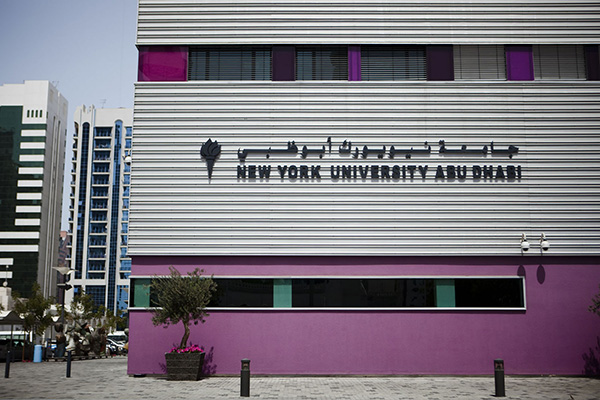 NYU Abu Dhabi announced its decision to move its first class graduation three days earlier after scheduling the ceremony on an Islamic holiday.
"Quite candidly, we goofed," said Josh Taylor, associate vice chancellor for Global Programs.
Initially scheduled for May 28, the university decided to move the ceremony to May 25.
"We simply could not take a chance that commencement would fall on the Isra and Mi'raj holiday, which clearly would have been a possibility given the Islamic calendar," Taylor said.
Islamic holidays are based on the lunar calendar, which means that holiday dates vary from year to year. Isra and Mi'raj celebrates a two-part journey of the Prophet Muhammad to Jerusalem and then heaven that could conclude after May 27.
"In addition to ensuring that we are considerate of Muslim members of our community and their families, we want to facilitate the attendance of government representatives on this significant occasion, which would be challenging should commencement fall on a holiday," NYUAD dean of students David Tinagero said in a Dec. 4 email.
Tinagero told students they could be reimbursed by the university if they had to alter their travel plans because of the date switch. NYUAD will also reimburse students' guests at graduation, provided that they had already secured their travel plans before Tinagero's he sent the email.
"I want to assure you that neither you nor your family will be responsible for any change fees associated with your flight home because of the date change of the commencement ceremony," he said.
The move out date for graduating seniors, however, has not changed. Students will be allowed to remain on campus until May 29.
"We're sorry for the inconvenience this change has created for our community," Taylor said. "And we are doing everything we can to assist those individuals who have been affected."
Several NYUAD students appreciated the university's efforts to rectify the situation.
"NYU Abu Dhabi is handling this as well as it could be handled," NYUAD senior Juan Felipe Beltran said. "Information was sent out quickly, including help the university could offer students who already booked tickets."
Beltran, whose family is from Colombia, said the change is only a minor inconvenience. NYUAD senior Rafael Scharan, from Brazil, expressed similar understanding.
"We live in an imperfect world, and things like this happen all the time, especially in a startup project like NYU Abu Dhabi," Scharan said. "It's a unique situation really, and the best thing to do is to just accept it, adapt and move on."
Additional reporting by Nicole Brown and Jordan Melendrez. Michael Domanico is a news editor. Email him at news@nyunews.com.