Nail colors for a winter season
After the holidays, nails could use a break from loud colors and loads of glitter. While your fingers may be freezing, it's always nice to show off a great manicure. As you trudge through the rest of this bitterly cold New York winter, try these fashionable new shades for a brief respite from weeks of sparkle.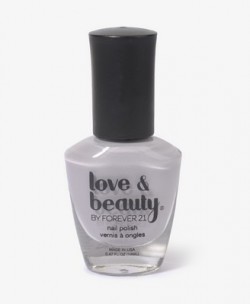 1. Pale Grey
A light grey is subtle, elegant and fares well with any outfit. Far from boring, grey looks striking and chic on nails and is the perfect ode to an urban winter. Look for a shade with minimal shimmer to keep it from looking too metallic. Avoid mattes, as they could be a little too reminiscent of concrete. Try Forever 21's Light Grey ($2.80).
2. Coffee
Even though you'll be drinking plenty of coffee as you get reacquainted with early morning classes, try the deep brown coffee tone on your nails. Experiment with shades ranging from chocolate to espresso to suit your taste and skin tone. For a touch of glamour, pick a shade with a lot of shine or a bit of shimmer. Bonus points if you wear it with a pair of equestrian-inspired riding boots. Try Sephora's Hypochondriac ($9.50).
3. Beige
Also a great neutral, this near-flesh tone has the effect of lengthening fingers. As versatile and classic as actual khakis, beige makes a great alternative to the standard French manicure. Ladylike without being the least bit frilly, the shade is also appropriate for both a lunch with friends and an important job interview. Try Essie's Case Study ($8) from Walgreens or Essie.com.
4. Emerald
Pantone LLC named emerald, a highly saturated and slightly bluish green, the color of 2013. Try the jewel-toned trend, expected to make a major impact everywhere from interior design to high fashion, in a smaller and more affordable way by testing the shade on your nails. For a deeper variation of the color, try Butter London's British Racing Green ($15) from Beauty.com.
5. Burgundy
Instead of the standard lipstick-red nail, opt for a darker shade like wine for an edgy and artsy twist. More fun than plain black but more intriguing than maroon, burgundy is the going-out color for winter. Try OPI's Lincoln Park After Dark ($8).
Ariana DiValentino is a staff writer. Email her at [email protected]
Hang on for a minute...we're trying to find some more stories you might like.