Gallatin alumna debuts affordable, chic line at Wal-Mart retailers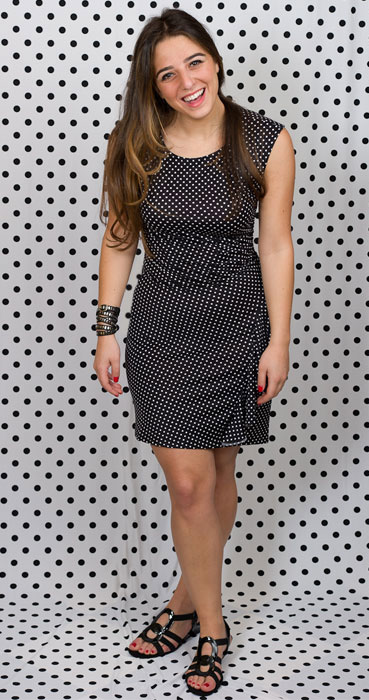 Gallatin alumna Shauna Miller is determined to transform the art of high fashion into an accessible platform for all women, regardless of budget or location.Miller, who graduated from the Gallatin School of Individualized Study in 2008, founded the fashion blog Penny Chic in 2010, aiming to give discount attire the credit it deserves. Using inexpensive items from stores like Walmart, Target and Kmart, Miller creates complete, fashionable outfits.
"I decided to fool people and put head-to-toe outfits together using Walmart clothes," Miller said. "It's the biggest retailer in the world yet somehow there's this disparity because nobody talks about it."
This year Miller is taking her blog to the next level. On Feb. 19, Miller debuted her first clothing line with Walmart. The line, Penny Chic by Shauna Miller, features five little black dresses designed in different styles. All dresses are priced at $20 and are available in regular and plus sizes.
"It's about taking something very simple that every girl needs and designing it in different ways for different girls," Miller said.
Miller's popular blog became a business last September when the fledgling fashion mogul connected with Walmart and was asked to design a line of her own for the mass retailer.
"We're always looking for new and innovative products that will delight our customers at everyday low prices," said Ravi Jariwala, director of media relations at Walmart.
Miller's experiences at NYU, from studying abroad in Paris to landing an internship with designer Emanuel Ungaro, taught her about entrepreneurship and enabled her to think outside of the box.
"Even when I'm speaking the same language as someone, sometimes [I] have to be creative and communicate in other ways," Miller said. "I have to be specific about what I want and work harder to get there."
Brittnie Adams, who operates brand outreach and social media at Penny Chic, sees Miller as a driven CEO and business partner.
"On my first day [at Penny Chic] she gave me a list of goals that she wanted to accomplish for that year," Adams said. "She was very clear and specific about her plans and one year later everything that she had on that list has come true."
A version of this article appeared in the Thursday, Feb. 21 print edition. Marina Zheng is a staff writer. Email her at [email protected]
Hang on for a minute...we're trying to find some more stories you might like.