HuffPost Live College Week invites students to speak out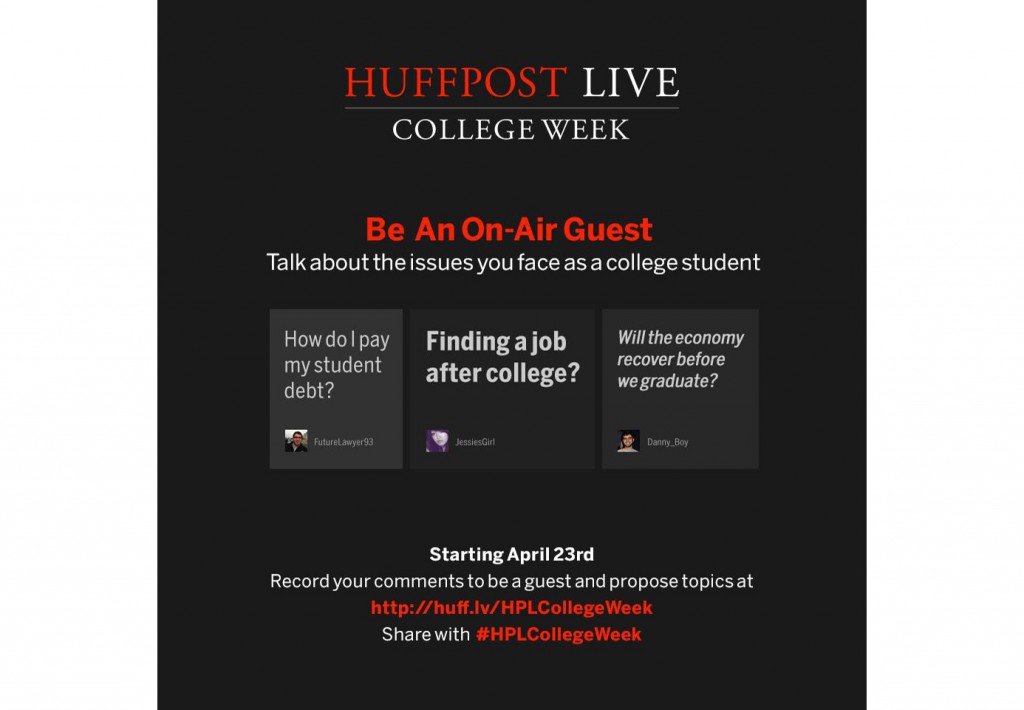 Among the multitude of roles that college plays in our lives, a prominent one is the transition between our coddled, food-and-laundry-on-demand teenage years and our future, tax-paying lives as "real people." In these four years, we learn how to survive midterms and research papers, sleep deprivation and eating cereal for dinner, drugs and alcohol, infatuations and heartbreaks, and bewildering — sometimes exhilarating, often despairing — thoughts about what we are going to do when we graduate. It is a lot for anyone to handle, but the first-ever HuffPost Live College Week is here to help.
Since April 23, HuffPost Live has been covering a different aspect of college life each day. Tuesday's discussion centered on "Social Life," while Wednesday's focused on "Academic Life." Today's will hone in on "Real Life" and participants will decide Friday's subject.
Jacob Soboroff, one of the hosts of HuffPost Live who moderates the event, described the motivation behind College Week.
"It's tough for young people to get answers to some of the questions and struggles they face everyday as college students," Soboroff said. "None of these issues are new to Huffington Post but we thought if we talked about them all together, it may be a good space for young people to go to and [will be] a good detonation for them."
On Tuesday, Jacob moderated a segment called "Getting Wasted," which featured a panel that included a senior at Scripps College, a writer for BroBible.com, and the director of counseling services at Pace University. In the span of twenty minutes, they covered everything from drinking culture on campus to alcoholism and SWUGs — "senior washed-up girls," a rapidly disseminating term and identity that began on the Yale campus.
Other segments from Tuesday spotlighted issues such as "Sex & Dating" and "Protecting LGBT Students on Campus." The segments all encompassed a spectrum of perspectives, fostered through insightful discussions that gave attention to each distinct voice without playing favorites. The segments are less comparable to sitting in health class being told what to do and more about sharing stories with a diverse group of friends, albeit in a public, broadcast setting.
"It's easy for news organizations to just come up with a list of issues, quote one student here, one advisor there, and voila," said Will McGuinness, senior editor of the Huffington Post college section. "We really wanted to steer away from that and let the students drive the conversation."
The result is a deeply aware, intact representation of what college students are thinking and feeling, with a finger on the pulse of today's most relevant issues. Student loans, hazing, social media, an unfriendly job market — everything is fair game.
Perhaps the most important aspect about College Week is the ease in which one can be involved. On the event webpage next to the live video, there is a comment box in which audience members can post comments or record a video in real time. The whole setup is largely interactive, and it is not uncommon for the host to read some of these comments on air. To join the discussion, go to HuffPost Live. There is a seat for you at the table.
Daniel Huang is a contributing writer. Email him at [email protected]
Hang on for a minute...we're trying to find some more stories you might like.