Case Western tops men's basketball in UAA meeting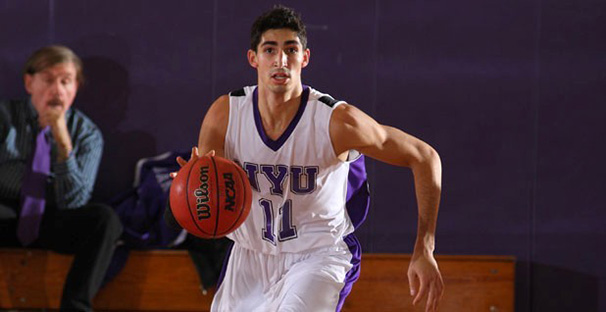 via nyuathletics
The NYU men's basketball team traveled to Pennsylvania and Ohio this past weekend, competing against their rivals in two UAA Conference match ups. After starting their road trip off strong by defeating Carnegie Mellon University 76-65, the men lost  73-80 to Case Western Reserve University.
The Violets stormed out of the gate and completely controlled the first half against Case Western with fluid passing and smart shots. Besides shooting 46.7 percent from the floor in the first half, the Violets shot 62.5 percent from behind the arc. This skillful offensive play, as well as a stout defense, allowed the Violets to lead 41-32 at halftime.
LS freshman Romas Marcinkevicius said the team put forward a strong game during the first two quarters.
"We were able to play our game and execute our plan," Marcinkevicius said.
Although the Violets dominated the first half, they fell short in the second half.
Case Western began building momentum throughout the half, which culminated in their team tying the game with seven minutes remaining. Although the Violets put up a fight, Case Western took over the game. The Spartans' starting unit outplayed the Violets and eventually won the game by going on a 18-6 run in the fourth quarter.
Marcinkevicius said the team's second-half performance failed to live up to its strong first half.
"It was a tough game and we just kept trading buckets," he said. "In the end, we just ended up on the shorter side of it."
Although NYU did not win, the Violets took several positives away from the game, including their work under the basket. The Violets controlled the paint on both ends of the court outscoring Case Western 34-14, and hauling in eight more offensive rebounds than Case Western.
Additionally, NYU's bench outperformed Case Western's bench. Led by CAS junior Iyoha Agho, the Violet's bench scored 13 points, while the Spartans' bench scored none. Their performance demonstrates the depth of NYU's team, which will help the Violets moving forward.
The team will face Carnegie Mellon again Wednesday, Feb. 7 at Coles Sports Center.
Ferenc Puskas is a contributing writer. Email him at [email protected]
Hang on for a minute...we're trying to find some more stories you might like.