Exhibit highlights modern fashion inspired by folk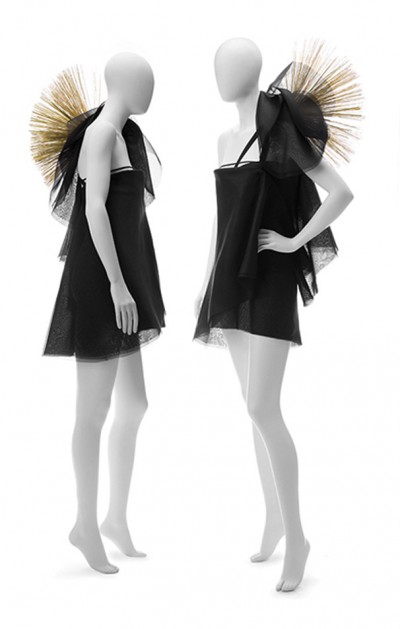 Jean yu via fashionandfolkart.tumblr.com
The world of fashion has once again collaborated with another artistic medium through the American Folk Art Museum's latest exhibit, "Folk Couture: Fashion and Folk Art," displaying a mix of hit-or-miss garments. With an innovative concept, a showcase of the custom garments and the works of art that inspired them seems to make perfect sense for a museum of such innovation and prestige. The execution, however, conveys a confusing sense of creative professionalism in most designs, while lacking depth in others.
Hanging near each piece are the works of art that inspired the designers. Comprising themes of pattern, narrative, disembodiment and playfulness, the clothes are displayed around the museum, but they are not ordered by group, disrupting the flow of the exhibit. However, with work from designers like Catherine Malandrino and Bibhu Mohapatra, each ensemble truly does have its own aesthetic that remains unique to its designer and corresponding theme.
Among the standout pieces were threeASFOUR's "Amity Dress," Michael Bastian's "Untitled" menswear and Fabio Costa's "Agnus Dame" look. With its striking white presence against the 19th-century religious wood carving that inspired it, the "Agnus Dame" tunic pant, crop top hybrid is truly a work of art that takes beautiful cues from religious implications and intricate patterning.
Similarly, Michael Bastian's own menswear look transcends a 19th-century time warp to enter into the era of Brooklyn chic. Bastian took inspiration from three pieces of art, the most literal image based on the piece "Anniversary Tin: Man's Top Hat and Eyeglasses," from which he made a knit hood with built-in earmuffs, ultramodern sunglasses and a vintage top hat.
ThreeASFOUR constructed the most exquisite piece of the collection. "Amity Dress" not only showcased the designers' incredible execution in manipulating patent leather in a laser-cut flower and star print, but also showed their unique interpretation of the art. Using the deeply-religious six-point star from the Quaker art piece "Friendship Star Quilt," the final couture look breathed an essence of originality, ornateness and symbolism. The entire exhibit should have shown this level of talent, but some pieces did not deliver.
Nevertheless, the exhibit is worth the free admission (with a suggested donation) and successfully explores a different side of fashion and art that is rarely seen.
"[The exhibit] explores the relationship between inspiration and creation, as well as the polemical yet fascinating ways in which fashion engages with art," guest curator Alexis Carreno said.
The merging of fashion with other art forms has intrigued many people, including NYU students such as CAS freshman Katie Schultz.
"I think it's really cool how they're mixing two mediums of art and having them sort of play off of each other," Schultz said.
"Folk Couture: Fashion and Folk Art" will be exhibited at the American Folk Museum until April 23.
A version of this article appeared in the Wednesday, Feb. 5 print edition. David Bologna is a staff writer. Email him at [email protected]
Hang on for a minute...we're trying to find some more stories you might like.