Death on set sparks conversation about safety precautions in film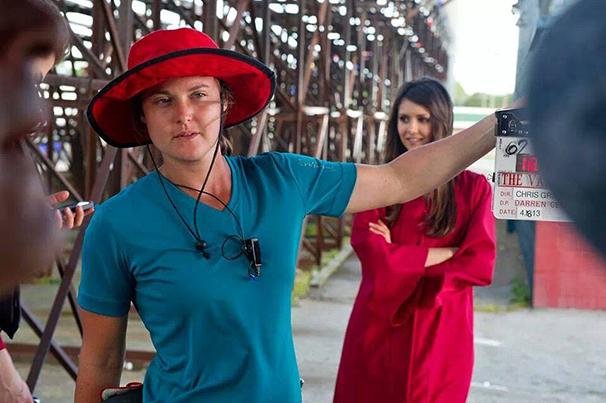 Camera assistant Sarah Jones was struck and killed by a freight train on the set of the upcoming Gregg Allman biopic "Midnight Rider" on Feb. 20. Jones' death, which could have been avoided with proper planning and safety precautions, has reopened a much-needed conversation about safety and workers' rights on film sets.
The incident happened while the crew was shooting a scene on the tracks, expecting two trains. However a third locomotive arrived with little notice. Several other crew members also  sustained injuries.
While production on "Midnight Rider" is halted, many film professionals are reflecting on what this situation means for the industry. Acclaimed cinematographer Haskell Wexler has championed film crew rights and has fought hard for reform that would limit the number of hours crew members can work in a day. He has pushed his 12 On 12 Off initiative since the 1997 death of Brent Hershman, a crew member on the set of "Pleasantville," who fell asleep at the wheel after working a 19-hour day. The initiative calls for crew members to work a maximum of 12 hours with a minimum of 12 hours in between each shift.
Wexler called Jones' death "criminal negligence." Though the incident was not clearly related to working long hours, Wexler echoes a sentiment held by many in the industry — safety regulations, which are often overlooked or bypassed for being tedious, are in place for a reason and must be followed.
Jones' death sparked a positive movement on various film and television sets with Slates for Sarah, a social media campaign created by her friends and family in remembrance. A web page features a gallery of photos of Jones, who did work on shows including "The Vampire Diaries" and "Glee," as well as photos of slates from many other series such as "Nashville," "The Americans" and "Brooklyn Nine-Nine." Slates for Sarah is more than just a photo gallery. The movement represents an industry coming together to shed light on a worthy cause.
Efforts to remember Jones culminated in a written campaign to include her in the 86th annual Academy Awards' In Memoriam tribute to fallen members of the film industry, which took place just 10 days after her death. The prospect seemed unlikely given the short time frame and the fact that Jones was not an Academy member.
While Jones' photo was ultimately not included in the video, she was mentioned in a card at the bottom of the screen after the tribute, which can be considered a victory.
While making a film, it is tempting to push the boundaries and put common sense on the backburner simply to achieve the perfect shot. Jones' death is a costly reminder of the high stakes that come with moviemaking, proving that great art does not happen without care. The rules for governing filmmaking are not meant to hinder creativity but to save lives, and they should be respected.
A version of this article appeared in the Wednesday, March 5 print edition. Ife Olujobi is film editor. Email her at [email protected]
Hang on for a minute...we're trying to find some more stories you might like.