Moore and Page defend gay rights in 'Freeheld'

Hang on for a minute...we're trying to find some more stories you might like.
Political animosity clashes with the love story between two women in the small, conservative town of Ocean County, New Jersey in Peter Sollett's drama "Freeheld." Based on the 2007 documentary of the same name, the film examines gay partnership when confronted with the reality of conservative politics.
From the opening scene of the film, the audience is thrown into the tail end of an investigation where officers Laurel Hester (Julianne Moore) and Dane Wells (Michael Shannon), partners on the force, set up a sting operation to bust a cocaine drug ring. An officer with 23 years of experience, Laurel is a closeted homosexual who has quietly been climbing her way to the position of lieutenant in her unit. Already falling victim to the stereotype of being a woman on the force, Hester desperately attempts to prevent her patriarchal profession from finding any more reason to not promote her. In an attempt to keep her work and personal life separate, Hester plays for a recreational women's volleyball team in the next state over. Sparks fly from the moment Hester catches the eye of her future partner, Stacie Andree (Ellen Page) and from there the romance is set.
The relationship between Laurel and Stacie blossoms despite an obvious age difference and clashing personalities. Their whirlwind romance quickly becomes political when Laurel is diagnosed with terminal cancer, and in preparation for her inevitable death tries to pass on her pension to Stacie. A local council known as the Freeholders are the only people that stand in the way of Hester's wishes. However, after garnering support from activist Steven Goldstein (Steve Carrell) and other sympathetic citizens, the Freeholders are forced to reconsider their stance.
The film features an all-star cast, including Academy Award winners and nominees such as Moore, Best Actress winner for "Still Alice" in 2014, Page, a nominee most notable for her breakthrough role as the pregnant teen in the 2007 film "Juno," and Shannon, a nominee known for his role in HBO's "Boardwalk Empire." The film enlisted a versatile group of actors to tackle the heavy plot.
What worked most for this film was the way in which it addressed both the political and emotional aspect of the raging debate in LGBTQ rights. The film has a resounding emotional impact on the viewer due to its timeliness and the fact that the Supreme Court's ruling in favor of same-sex marriage was only a few months ago.
Rather than a romanticized portrayal of events, Sollett depicted relatable characters, based on real people that were fighting for their most basic human rights. The situations from the film were events that the audience could relate to on a personal level in some way or another, whether they are a member of the LGBTQ community or simply an ally. In the midst of political change in regards to LGBTQ rights, the film premieres during a time where the subject is still widely controversial. It is this proximity to reality that makes this movie so evocative.
A film that will leave you frantically searching for your stash of Kleenex by the end credits, "Freeheld" is a true testament to the hashtag that swept the nation after the Supreme Court's ruling this past June: #LoveWins.
"Freeheld" is set to premiere in select theaters nationwide on Oct. 2.
Email Dejarelle Gaines at [email protected]
Hang on for a minute...we're trying to find some more stories you might like.
About the Writer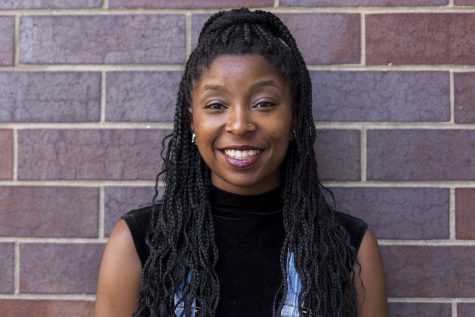 Dejarelle Gaines, Highlighter Editor
Dejarelle (Deja) is the Highlighter Editor for the Washington Square News. She is a senior in Steinhardt studying Media, Culture and Communication and Journalism and she hopes to eventually land a job as an editor for a newspaper or a magazine. A lover of all things animated, especially anything that is related to Steven Universe...