Barbara Tfank S/S 2017
By Pamela Jew, Contributing Writer
September 13, 2016
Hang on for a minute...we're trying to find some more stories you might like.
As you entered the Laura Heller Gallery you were greeted by soft, remixed electro-harp music and Barbara Tfank's elegant Spring/Summer 2017 collection. The models graced the gallery one by one, decked in the stunning, light-reflecting satin silhouettes. Tfank circled the room greeting reporters, photographers and friends; her demeanor emulating the poise of her designs.
New York native, Barbara Tfank felt instantly inspired for her S/S 2017 collection after a recent trip to Seville, Spain this past summer. Tfank said her designs were influenced by "the mixture of the Moorish architecture and the flowers and cutouts" throughout the city. When designing, Tfank makes textiles her priority even before she designs the shape of the dress.
All of the looks captured Tfank's classic and sophisticated shapes. But unlike her usual collections, Tfank included more neutral and black pieces which did not garner as much attention as her pastel colored looks. The yellow daisy spaghetti strap slim dress paired with  the yellow daisy coat stole the show and alluded to many of the looks Tfank has designed for First Lady Michelle Obama. Other notable looks around the gallery included Tfank's stunning satin abstract dresses and her use of sparkle tulle overlay.
One of the models, Becca, a first time model for Tfank and NYFW, noted the flattering cut and print of her rose floral circle skirt tea-length dress. She loved Tfank's choice of fabrics and welcomed her selection of a simpler strappy shoe to bring a more casual and comfortable element to the already cosmopolitan look.
Overall, the collection was classically elegant, and Tfank achieved her eclectic vision and homage to Seville. This collection will effortless make any woman feel transformed and easily embrace her femininity.
Email Pamela Jew at [email protected]
Hang on for a minute...we're trying to find some more stories you might like.
About the Writer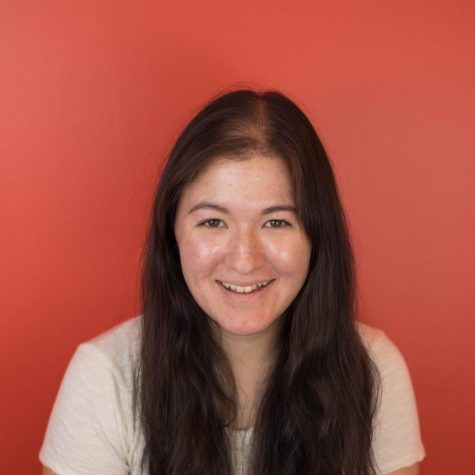 Pamela Jew, Deputy Managing Editor
Pamela Jew is the Deputy Managing Editor for the Washington Square News as well as a sophomore in Gallatin studying something along the lines of journalism, fashion and sociology. She's from a town in the suburban outskirts of Atlanta, lovingly referred to as 'The Bubble,' but to burst your bubble, she unfortunately (or fortunately) doesn't...