Five Snack Spots For the Night Owl
By Tasnia Choudhury, Contributing Writer
September 15, 2016
Hang on for a minute...we're trying to find some more stories you might like.
New York might be the city that never sleeps, but it is always hungry. Like well-kept secrets, the best late night restaurants are easily missed by the untrained eye engrossed in the captivating furor on the streets.
Spot Dessert Bar
13 St. Marks Place
Late night hours: Thursday – Saturday 12 p.m.-1 a.m.
Down a short flight of concrete steps, this dessert shop satisfies high demands for their signature sweet dishes like green tea tiramisu, chocolate green tea lava cake and other sweet tapas. Their signatures are indicative of East Asian influences on otherwise traditional dessert entrees.
The Sushi Lounge
31 St. Marks Place
Late night hours: Tuesday – Saturday 12 p.m.-12:30 a.m.
The Sushi Lounge rests a couple stores up the block from Spot and is hidden under the flight of stairs that separates the interior into two sections. Previously known as Natori before a change in ownership, this cash-only establishment offers typical Japanese dishes including sushi and sashimi, ramen burgers, teriyaki and drinks like sake.
Mari Mizumoto, a 32 year-old patron of The Sushi Lounge, described her experience. "The portions are smaller than the other places around here, but the food is a lot cheaper. It's definitely not where you would want to bring a first date, but more like a quick meal with a friend."  
Kenka
25 St. Marks Place
Late night hours: Monday – Thursday 6 p.m.-2 a.m., Friday – Saturday 6 p.m.-4 a.m., Sunday 6 p.m. – 1 a.m.
Kenka is yet another restaurant found below the street level which serves eccentric Japanese street foods like bull penis and other cooked animal parts. Beyond the unusual, Kenka also serves traditional Japanese cuisine like udon, sushi, ramen noodle bowls and yakisoba. The decor screams raunch with images of naked mannequins adorning the walls and with drink specials like $1 beers and $8 pitchers of Kirin Ichiban beer, this late spot attracts large crowds every night.
Mamoun's Falafel
30 St. Marks Pl
Late night hours: Monday – Wednesday 11 a.m.-2 a.m., Thursday 11 a.m.-3 a.m., Friday – Saturday 11 a.m.-5 a.m., Sunday 11 a.m.-1 a.m.
Mamoun's Falafel is a local middle-eastern restaurant that recently revamped its location on St. Marks. They have a more spacious and appealing structure but remain true to the flavorful schwarma and commitment to late night dining that allows its continued success at the original location on 119 Macdougal Street. Their signature meats (chicken, beef or lamb) come in platters or sandwiches and you can combine either with a hummus plate and baklava dessert. Vegetarians can opt for the falafel sandwich, made of fried and mashed chickpeas with Mamoun's traditional spices.
Veselka
144 2nd Ave
Late night hours: Open 24/7
Veselka is decorated with murals of dining patrons, a shrine of accolades and merchandise and an appropriate sign that reads "Veselka is Love." The love memorialized in their shrines and by the constant stream of patrons may be attributed to their borscht, a traditional beet soup, or their wide variety of pierogis, dumplings stuffed with meat, cheese or vegetables.
Farook's Halal Cart
On the sidewalk in front of Palladium Hall
Late Night Hours: Open until 1 a.m. on weekdays and until 3 a.m. on Fridays and Saturdays
CAS senior Josh Liyanage is a fervent customer of Farook's halal cart across NYU's Palladium Hall.
"People who don't know their shit go to other carts, but it's the middle one and if you have his cell number, you can order your food and pick it up on your way home," Liyanage said. "What could be better?"
Email Tasnia Choudhury at [email protected]
Hang on for a minute...we're trying to find some more stories you might like.
About the Photographer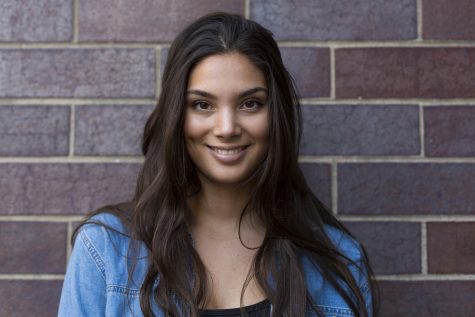 Tatiana Perez, Video Editor
Tatiana Perez is the Video Editor for the Washington Square News. Having moved around most of her life, she is most recently from Chicago. While Tatiana only lived there two years, she debatably has a stronger Chicago accent than most chi-town natives. The reason for this is unknown. On her time away from the Multimedia...