The LGBTQ Issue
September 26, 2016
October is Pride month at NYU and we could not let it pass us by without commemorating it in some way. New York City has long been a welcome home for the LGBTQ community, with landmarks such as the Stonewall Inn to remind queer people of what can often be a comfort — the simple fact that the LGBTQ community has always existed in one form or another.
Though this history may seem to be oft-trodden ground, many younger members of the LGBTQ community, and those outside of it, may not be aware of it. New York City has been one of many battlegrounds in the fight for LGBTQ rights, and still is to this day. NYU also has roots in this history, with its Queer Union being the second-oldest of its kind, after Columbia's. All members of NYU can benefit from learning about the long history of activism our school has seen, even those who are not part of the LGBTQ community.
The LGBTQ community is working to make it easier every year for more people to come out and be comfortable with their identities. The continued existence of the LGBTQ center on campus is proof that these efforts are not in vain, as students are still coming to college and finding a place to belong.
In this issue, we aimed to highlight resources available to students around campus, as well as some of the obstacles the LGBTQ community has faced in the past — and still faces today.
In an effort to remain in line with the wording of the center on campus, WSN chose to refer to the community as LGBTQ. We recognize that not all communities around the country identify with these letters, but for consistency, we followed the lead of NYU's
campus community.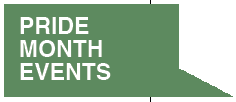 Gender Neutral Bathrooms Around Campus