Loris Diran F/W 2017
Hang on for a minute...we're trying to find some more stories you might like.
Loris Diran's Fall/Winter 2017 show, titled "BACK 2 BLACK", was largely influenced by his past year living and working in India and mainland China.
The atmosphere immediately evoked calm and tranquility. The whole room was bright, naturally illuminated by the surrounding windows. The same could be said about Diran himself, whose bubbly personality shone through greeting and thanking many of his guests before the show. There was no music preceding the show, but Diran kept with the title and paid homage to Prince by making his songs the soundtrack of his show.
The clothing, like the space, embodied the ongoing trend of minimalism. While the color scheme did not expand out of white, grey and black, Diran found ways to expand various shades of each color and pair them brilliantly together. This was often seen on the top half of the models: some of the models wore jackets with bi-color panels or grey ombre wool sweaters. He varied the fit of the clothing, specifically in the pants and dress shirts. He often paired statement clothing pieces with a much simpler counterpart, like a long shirt with perfectly tailored pants, or drop-crotch pants with a tight-fit dress top. Despite the diversified fit, all of Diran's clothing evoked calm and balance.
Diran also found other ways of incorporating calm and balance in his clothes. Some models, towards the middle of the show, walked out with graphic sweaters and pants, each with a saying by either Confucius or Ghandi. While the intention was to pay homage to his life in both India and China, the intended message fell flat. Most of the words were obstructed by other items of clothing, and it felt a little cliché to have quotes such as "My Life is My Message" printed on black sweaters.
Loris Diran's F/W 2017 show was a successful adaptation of the minimalist trend repeated on runways this season and in season's past.
Email Michaela Hoffman at [email protected]
Hang on for a minute...we're trying to find some more stories you might like.
About the Contributors
Michaela Hoffman, Violet Vision Editor
Michaela Hoffman is the Violet Vision Editor for the Washington Square News. She is a freshman in the Liberal Studies Program and hails from Albany, NY. When Michaela to the big city this past fall, Michaela traded in her #basic but comfortable UGG boots for knee-high boots, "in the name of fashion." However, she is a firm...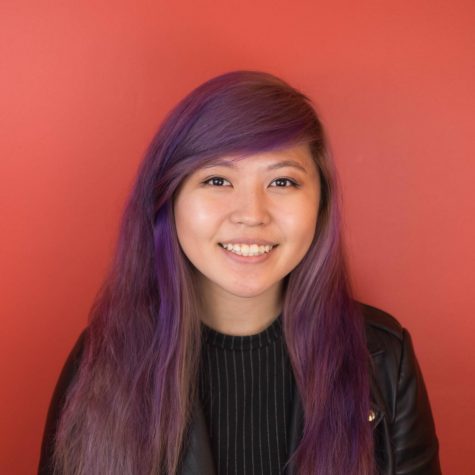 Veronica Liow, Assistant Managing Editor
Veronica Liow is the Assistant Managing Editor for the Washington Square News. From the Bay Area, she is an advocate of the term, "hella." More than (almost) anything, she loves pugs. You can find her drinking green tea almost everywhere, anytime. When she's not having anxiety over what will be her concentration in Gallatin after...