Jared Kushner Threatens to Destroy NYU Building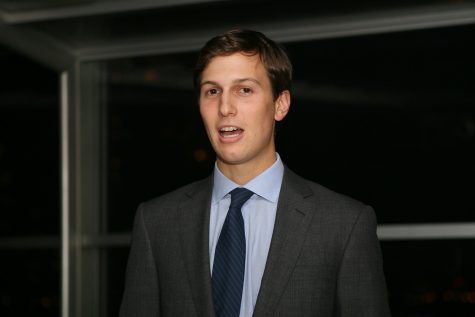 By Rita Skeeter, Contributing Writer
April 1, 2017
Hang on for a minute...we're trying to find some more stories you might like.
A disgruntled landlord might be the only thing impeding NYU's plans to conquer Gotham, after Senior Adviser to the President Jared Kushner claimed that he would have an NYU building demolished.
WSN recently reported that the NYU Law alum's real estate firm, Kushner Companies, owns the Puck Building. Located on 295 Lafayette St., the building hosts offices for NYU's Wagner Graduate School of Public Service and the Department of Sociology.
In December, Kushner's fellow NYU Law Class of 2007 alumnus sent him an open letter asking him to encourage President Donald Trump to make policies and laws that protect oft-marginalized communities. Kushner's Harvard peers wrote a letter with a similar message.
Yesterday afternoon, Kushner sent an email to NYU administrators saying that he would demolish the Puck Building if he continues to receive these letter and emails from his  peers.
"I regret to inform you that because of the worsening relationship between myself  and NYU, the university's departments and offices located in the Puck Building will be evicted," the email read. "Unless this relationship improves, I plan to have the building demolished and replaced by another Trump Hotel."
Kushner told WSN via email that he is tired of receiving these types of messages from his peers. He also said that his frustration motivated his decision to demolish the Puck Building.  
"Every single day, I receive at least 100 emails from NYU Law and Harvard graduates telling me that I should either step down from my position in the Trump administration because it is immoral or persuade President Trump to be a 'better' president," Kushner said. "Honestly, I don't even have that much control over the man — nobody does. Plus, he's my father-in-law, so I have to stay on his good side if I want to remain married to Ivanka."
Kushner's head secretary Dolores Umbridge said that the emails often anger Kushner, but she said that he has never made drastic decisions out of frustration.
"Occasionally, after reading an email he would call and argue with the people who sent it to him, but that's usually as angry as he would get," Umbridge said. "Destroying a building because you don't like someone's letter is extreme. He used to be such a level-headed man — I think President Trump is rubbing off on him."
NYU Spokesperson Johannes Becker said that the administration is currently trying to discuss the matter with Kushner.
"Kushner has yet to return our calls, but we expect the issue to be resolved soon," Becker said. "The email was presumably sent by mistake, so the university is not looking for other accommodations for our displaced offices. Despite the media's portrayal of the matter, there is no need for concern."
Email Rita Skeeter at [email protected] This report has been a part of our special April 1 parody coverage. Check back next week when we get back to business
Hang on for a minute...we're trying to find some more stories you might like.