NYU College Democrats Host NYC Mayor Bill de Blasio
Hang on for a minute...we're trying to find some more stories you might like.
New York City Mayor Bill de Blasio spoke about civic engagement today at an event hosted by the NYU College Democrats in the Eisner and Lubin Auditorium of the Kimmel Center for University Life.
Titled "NYC Youth Rise Up Panel," the event was hosted by the NYUCD in collaboration with the Mayor's Office Community Affairs Unit, the Baruch College Student Government and the Hunter College Student Government, among other groups.
The event began with an introduction from the rising President of the NYU College Democrats CAS junior Fadumo Osman and NYU College Republicans President and CAS junior Elena Hatib.
After a speech from President Andrew Hamilton, de Blasio took to the podium and discussed his time as an activist at NYU — while at the university he majored in metropolitan studies and served as the president of Weinstein Residence Hall.  
"When we engage in civic life, whether it is in our universities, NYC, or at a national or international level, we not only feel empowered.. pic.twitter.com/7ao784xyRC

— Jemima McEvoy (@JemimaNews) April 26, 2017
"I didn't always agree with the policies of my university," de Blasio said to the audience. "We thought the tuition was too high and we weren't getting enough for it."
He also touched on current political issues such as the debate over the Affordable Healthcare Act and immigration reform, encouraging students to involve themselves in local politics.
"It begins with the simple act of getting people registered to vote," de Blasio said about the route to change.
De Blasio spoke for around an hour before a panel including the Commissioner of Small Business Services Gregg Bishop, the Service Year Expansion Director for NYC Services Aaron Minor, the Assistant Commissioner of Immigration at the Mayor's Office Bitta Mostofi and the Mayor's Deputy Chief of Staff Rachel Lauter, began answering questions that were pre-submitted from the audience. When de Blasio's speech ended, approximately half of the formerly full room exited.
Panelists include key figures from the Mayor's Office of Immigrant Affairs, NYC Service and the Small Business Services. pic.twitter.com/GQJyK0rqdp

— Jemima McEvoy (@JemimaNews) April 26, 2017
At the end of the panel, a number of government organizations and agencies invited students to continue the discussion of civic engagement at tables lined around the inside of the room.
CAS senior and NYU College Democrats President Michael DeLuca said that the panel represents the culmination of months of hard work, beginning as early as February. He credited the NYUCD's Treasurer Ryan Trambauer, the NYC Regional Director for the College Democrats' statewide organization and NYUCD's political director Fadumo Osman with organizing the logistics of de Blasio's visit.
"Our initial goal was to increase collaboration with other civic-minded groups from throughout New York City," DeLuca said.
DeLuca thinks that the mayor was attracted to the university by the energy and enthusiasm of the people who were involved in planning the event. He believes that this event will challenge the notion that this generation is apathetic and disengaged.

Osman, who is currently the vice president of the NYU College Democrats, said that in the past it was always during the semesterly debate — a point of division — that the club collaborated with the NYUCR. She thinks that this event could mark the beginning of a reformed relationship between the two.
"A bunch of us have already talked outside of those debates and gotten to know each other," Osman said. "But we have never had an event like this, at least not in my time with the College Democrats where we come together on a bipartisan or nonpartisan issue and just talk about our methods because we want more people registered and they do too."
Osman said that in recent months protests and reactions to speeches on campus have escalated and she believes that there has been a muddled view of how the NYUCR and the NYUCD see each other. She thinks that both clubs can focus on common ground, and engage in casual discussion centering around issues that pertain to students, such as the event today.
CAS freshman Jordan Hirn attended the event and he said that it was interesting to see the mayor get involved on a collegiate level and try to influence students to get more involved with politics.
"It was nice to see a unifying force since the country is so torn at the moment," Hirn said. "Even though he is a Democrat, both parties showed up and participated. Overall it was positive."
He said that this event influenced his interest in activism on campus. Although he has already been involved with protests and is involved with Third Avenue Government and the NYU College Democrats, he wants to increase his involvement.
Osman said that because in recent months it has become easy to be cynical and view the government as something that students can't engage in, this event was successful in demonstrating that politics affect everyone.
"When you have the mayor come to you, you have panelists and you have the resources and city agencies that actually do the work, what excuse do you have," Osman said. "This has been a multifaceted event and something that we haven't really been able to do before, but given the age we're in and the administration that we're under I think it's really important that it happened."
Email Jemima McEvoy at [email protected]
Hang on for a minute...we're trying to find some more stories you might like.
About the Writer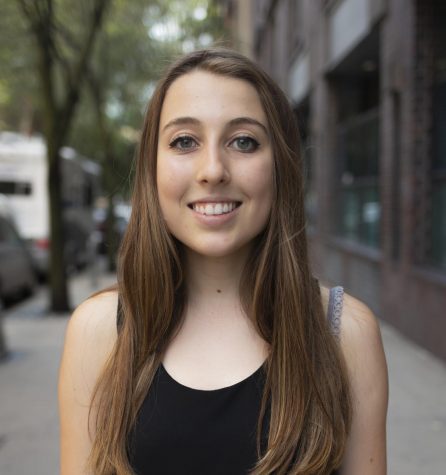 Jemima McEvoy, Editor-in-Chief
Jemima McEvoy is a junior studying Politics, Economics and Languages in CAS. Maybe it's because she grew up in the British countryside, but she's completely intoxicated by life and art in New York City. She's passionate about music, literature and filling journals halfway. When she's not wondering around the streets smiling, she's likely writing or...