Staff Recs: Best Halloween Candy
Hang on for a minute...we're trying to find some more stories you might like.
The days leading up to Halloween are dwindling — the spookiest night of the year is upon us. To cap off the Halloween-themed staff recommendations, the WSN staff members are offering their takes on the best candy to treat yourself to this Wednesday.
Candy corn has a special place in my heart. I know this is controversial these days, but I love it. It's only available in the month of October, for the most part, and the honey-sweet taste brings me back to when my mom would put out a bowl of it every Oct. 1 without fail, refilling it until the end of the month. I especially love the pumpkin-shaped ones. However, the chocolate ones (with the non-PC name of Indian corn) are utterly terrible, and they have no business tarnishing the perfection of classic candy corn. —Jordan Reynolds, Arts Editor
I'm going to make this one political. My candy — or as we call it in England, sweets — suggestion for Halloween is anything English. I've been holding this anger in for a while, but American chocolate is so bad. It is bitter, and that just isn't what I want from my candy. I want it to treat me well; I want my chocolate to wine and dine me. American candy just screws me and leaves. This Halloween, do yourself a favor and order some British candy off Amazon. I promise you won't regret that $3 shipping charge. —Jemima McEvoy, Managing Editor
To all our lovely readers who are allergic to peanut butter, I apologize in advance for this ode to my favorite candy. Reese's Peanut Butter Cups were the only candy I ever wanted to fall into my pillowcase when I went trick or treating as a kid (…and a few years ago). The peanut butter chocolatey goodness of Reese's cannot be beat. There were only two in a pack, but even that was enough for me. To think that my neighbors were spiritually enlightened enough to know that the best Halloween candy was the Reese's Peanut Butter Cup continually restored my faith in my humanity. —Natasha Roy, Assistant Managing Editor
Email the arts desk at [email protected]
Hang on for a minute...we're trying to find some more stories you might like.
About the Writers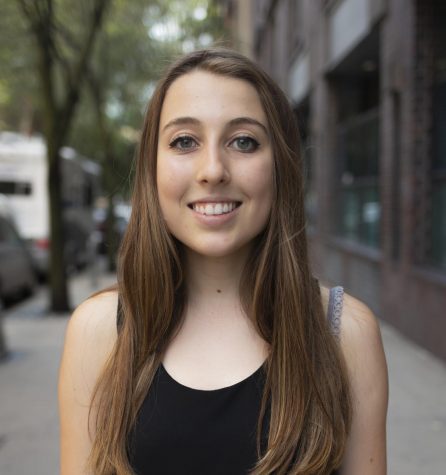 Jemima McEvoy, Editor-in-Chief
Jemima McEvoy is a junior studying Politics, Economics and Languages in CAS. Maybe it's because she grew up in the British countryside, but she's completely intoxicated by life and art in New York City. She's passionate about music, literature and filling journals halfway. When she's not wondering around the streets smiling, she's likely writing or...
Natasha Roy, Managing Editor-at-Large
Natasha is a CAS sophomore studying journalism and public policy, and she's an editor-at-large at WSN this semester. Originally from a small town outside Dallas, Texas, she moved to an even smaller town outside Atlanta, Georgia when she was nine (and she'll absolutely force country music on you if you give her an inch). She's...