The Bones of Washington Square Park
Hang on for a minute...we're trying to find some more stories you might like.
All of us have skeletons in our closets, but they're hidden away and mostly metaphorical. For Washington Square Park, the skeletons of the past are instead kept underground and are very, very real.
In November 2015, city workers stumbled upon two tombs full of skeletal remains beneath the edge of WSP. The 19th century burial vaults were found accidentally while contractors for the Department of Design and Construction were trying to replace an old water main in the park.
Most of the students I spoke to seemed unaware of WSP's haunted past. The avid park-goers were slightly spooked at first but concluded that the existence of these bodies probably wouldn't deter them from traversing the area.
CAS junior Gabe Hoffman had never heard about the skeletons under the park before. He was surprised but brushed off the ghastly horrors.
"The skeletons below comfort me with the knowledge that I'm not the only one being walked all over," Hoffman said.
Other students, such as CAS sophomore Nick Sawhney, took the matter much more seriously.
"That's pretty spooky," Sawhney said after hearing about the skeletons for the first time.
He was interested to know more about where these skeletons came from. When the news about the bodies first broke, the New York Post reported that the vaults are connected to a church congregation whose members were buried there.
"I guess it's interesting to know, but it doesn't really affect my perception of Washington Square Park or NYU or anything like that," Sawhney said. "I'm sure there's a lot of 'spooky' stuff in and around Greenwich Village, just because it's one of the oldest settled parts of [the] area."
For the most part, people were fascinated to learn about the history of the park and the reason behind the discovery of these remains. CAS junior Daren Lo thinks that the existence of these skeletons is not scary as much as intriguing.
"I'm not spooked out," Lo said. "I'll probably still go through [WSP] like any normal day given the skeletons. It's some interesting history, and I think it's fascinating."
Lo pointed out that there are numerous cities that have historical remains whose identities have not been discovered, like the Catacombs of Paris and the slave burial sites in Southern Manhattan and other parts of New York City.
"They're history, and people can get inspired to take the opportunity to learn more about the past and also make sure to respect the remains," Lo said. "Other people may not feel the same way, I'm sure. But back in Singapore there is a festival where we honor the dead and burn paper money — not real money — and leave food and pray for them, so I feel a bit less detached to the idea of ghosts, I think."
Reid Gobieski, a sophomore in CAS, was the only person I spoke with who knew about the skeletons beforehand. He didn't seem even remotely spooked by the skeletal remains but expressed concern about preservation.
"It doesn't necessarily bother me that skeletons may lie below my feet," Gobieski said. "However, I am more concerned about the construction at [WSP] and its effect on the graves."
Email Jemima McEvoy at [email protected]
Hang on for a minute...we're trying to find some more stories you might like.
About the Writer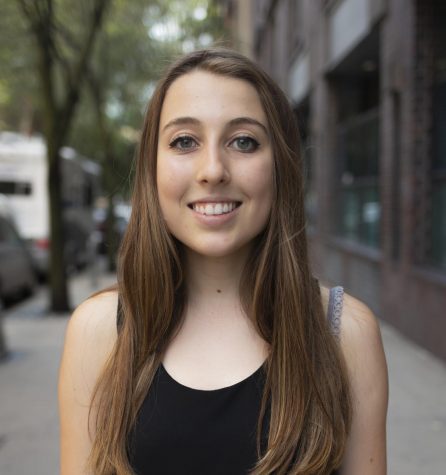 Jemima McEvoy, Editor-in-Chief
Jemima McEvoy is a junior studying Politics, Economics and Languages in CAS. Maybe it's because she grew up in the British countryside, but she's completely intoxicated by life and art in New York City. She's passionate about music, literature and filling journals halfway. When she's not wondering around the streets smiling, she's likely writing or...