SUR: On His Anthemic Debut and Inspiration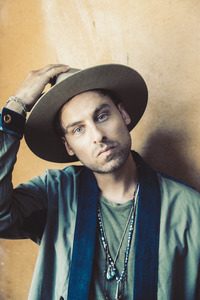 By Nicole Rosenthal, Staff Writer
November 28, 2017
Hang on for a minute...we're trying to find some more stories you might like.
Northern California-based musician and producer Zack Arnett, who goes by SUR, found his creative inspiration somewhere between Red Rock and Big Sur. These landscapes were so moving, they motivated him to make soulful music inspired by love, violence and nature. Driven by observation, reflection and true passion, SUR's music is truly larger than life as demonstrated by his raw, unforgettable debut single "Lean Back."
"It has as big of an impact as anything as far as inspiration goes," Arnett told WSN regarding his youth, having grown up in the central coast near Big Sur. "As a kid, it was the first place where I got spiritual. It's a very spiritual, zen place. When I leave the city, that is where I go and kick it and recharge, and I feel like a better human."
The Californian indie-rocker has never been married to one genre, although he is inclined toward native-electric rock. He has experimented with lo-fi guitars, electronic synthesizers, tribal drums and hip-hop beats.
"We've been trying to figure out [a genre] exactly," Arnett said, "I hope we can carve out a new genre of sorts. For this record, I wrote most of these songs while traveling in the back of an [recreational vehicle]. The environment was totally the muse for most of the songs. What I was going through at the time was like an antenna, I was just channeling what was happening and organically firing it out of me."
What stands out the most in SUR's new single is its sheer anthemic nature. Arnett couples hard rock with an earthier indie sound, tactfully crafting an all-around masterful sound.
It would be no surprise to see the likes of SUR rising in the alternative charts sometime soon. Overall, "Lean Back" is a promising foray into the alternative music world for the talented young artist. The organic nature of the instrumentation transports the listener to the forests of the California Red Rock region. In addition, its contemplative lyricism is purely introspective.
"It was a series of events," Arnett said when asked about the inspiration for the lyrics on his upcoming debut extended play.
"It came from observing life, observing culture, religion and what we perceive as right and wrong from one person to the next," Arnett said, "It can be very different, as well as [what] we believe in as far as heaven and hell. I believe that we're currently living in both places, and waving in and out of them at all times."
Arnett said his new song builds off that idea, and the concept of dipping in and out of life's darkness.
"This song is about being an example of a situation where there is no right answer, it's when you're put in a position when there's only one decision and it's survival," Arnett said. "It's this savage beast within us that is making this choice and it's the choice we are willing to make. It has nothing to do with wrong or right — it's instinct."
Email Nicole Rosenthal at [email protected]
Hang on for a minute...we're trying to find some more stories you might like.