From the Inside Out: Holier' Than Thou
A perennial trend within the world of beauty, tattoos and piercings have been in vogue since some of the earliest civilizations. Arguably one of the most personal forms of of self expression, tattoos and piercings serve not only an aesthetic decoration but also an internal and intimate function as well. WSN will be profiling students who choose to alter their bodies in the name of beauty, and learn about their experience getting pierced or tattooed.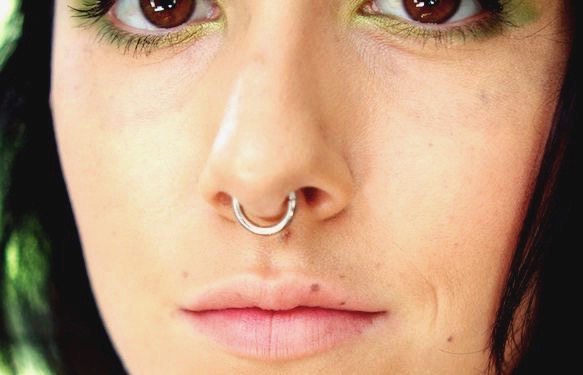 Hang on for a minute...we're trying to find some more stories you might like.
Some people love body piercings, and some people hate them. I have always loved body piercings (I have five ear piercings and one nose ring), but ironically, needles terrify me. Recently, I had been considering a septum piercing, which is a piercing of the area between the two nostrils and typically worn with a ring or horseshoe ring. Choosing the ideal piercing or tattoo shop is as crucial as having a piercer who makes you feel at ease. A bad shop choice on your part could mean the difference between a terrific experience and an anxiety attack.
I finally worked up the nerve to get the piercing, but I had to narrow down my options among the plethora of piercing places around the city. After much research, I decided upon Pure Body Arts due to its glowing reviews on Yelp where customers raved about the comfortable atmosphere and their positive piercing experiences. Pure Body Arts performs piercing on a walk-in basis only. I gathered up my friends to make the trek to 424 Broadway — where Pure Body Arts is located — on a Friday night.
The initial process was derivative to the other piercings I've gotten from filling out the forms to showing my ID. Before the piercing began, the piercer and I looked at jewelry to pick the kind of horseshoe that I wanted and discussed the necessary size for my nose. In addition, the piercer checked to see whether I would be able to flip the ring inside my nose to hide it, which is determined by the size of the base of one's nostrils. Ultimately, it would not be possible for me. I appreciated that he checked with me as I didn't know that a horseshoe could not be hidden.
Once the actual piercing began, he was extremely accommodating of my fear of needles. I wanted to be warned before he put the needle in, so that I was not surprised or shocked. He explained the entire process so that I knew what to expect, and once we were ready, began by cleaning the area, finding the exact place to pierce and describing the type of pain I could expect. In one swift motion, he inserted the needle on my right side, through the septum and out the left. Then, he pushed the needle through, inserting the jewelry and finally screwed on the ends of the horseshoe. Overall, the pain was manageable but certainly uncomfortable and more than a pinch. In terms of scale, it hurt less than my nostril piercing but more than a cartilage piercing.
The piercing, septum jewelry and other jewelry for my unrelated nostril piercing were $80 all together before tipping the piercer. The entire experience was excellent as I was comfortable and understood the process each step along the way. The piercer was also knowledgeable about septum piercings as well as jewelry and willing to answer any question or concern, which helped to put me at ease about the needle. I certainly recommend Pure Body Arts for a body piercing and would return in the future if (when) I decide I would like another piercing.
Email Faith Marnecheck at [email protected].
Hang on for a minute...we're trying to find some more stories you might like.