University Senate Discusses New Freshman Housing, Sexual Misconduct
Hang on for a minute...we're trying to find some more stories you might like.
Each month, members from the Student Senators Council, the Tenured/Tenure Track Faculty Senators Council, the Full-Time Continuing Contract Faculty Senators Council, the Administrative Management Council, the Deans Council and university administration convene for a two-hour University Senate meeting.
WSN sat in on the Feb. 15 meeting and will continue to cover University Senate meetings as long as its application to attend is accepted. Notes on the meeting are below:
I. STANDING COMMITTEE REPORTS
On behalf of the University Judicial Board, Steinhardt graduate student Michelle Ng presented a proposal to update the University's Student Conduct Rules and Procedures. The proposal was presented at the last University Senate meeting on Dec. 7, 2017. It has since been revised to reflect the suggestions brought up at said meeting. The proposed changes to the document would be the first to be implemented in over 40 years. Members present unanimously passed the proposal. The changes will go into effect on Aug. 13.

On behalf of the Public Affairs Committee, Assistant Vice President for Government Affairs Steven Heuer presented the Report on Government Relations and Quality of Life. Heuer remarked that the federal government's new budget threatens funding for research and student aid. He further mentioned that the bill introduced into the House of Representatives in December would hurt the Higher Education Act, which helps with student aid and work-study money allocations, among other aspects of financial aid. Heuer maintained that the university would make every effort possible to protect Dreamers as March 5, the day on which protections would end for Dreamers, approaches. For example, in March, representatives from NYU in Washington, D.C., to show the university's support for Deferred Action for Childhood Arrivals.

"We will be constantly pressing for an acceptable resolution to DACA, as [Heuer] mentioned, and hopefully that will be completed in the next one to two months, but it remains to be finalized," President Andrew Hamilton said during the meeting.

Arlene Peralta, senior director of Community Engagement, reported a few of her office's successes. For the last year and a half, the office has increased its efforts to connect not only with the Manhattan community, but also with the Brooklyn community. On average, each academic year, over 16,000 students engage in some sort of community service, contributing over 1.7 million hours of assistance. NYU's America Reads and Counts program is the largest of its kind in the nation. The NYU Combined Campaign, which is funded entirely by donations from NYU employees, has raised over $3.9 million for local charities in Manhattan and Brooklyn in the last 20 years. Peralta stated that the office has not taken a position on the Brooklyn-Queens light rail project, which would pass 370 Jay Street if created.
II. COUNCIL REPORTS
On behalf of the Student Senators Council, third-year NYU Law student Nicolas Duque-Franco proposed a resolution to amend the university bylaws to create a regular Liberal Studies seat in the SSC. At the moment, a Liberal Studies representative counts as one of the 14 senator-at-large positions which are allocated each year. The resolution was passed, with all but one of the university senate members in attendance voting in approval.
III. REPORT ON 181 MERCER CONSTRUCTION
Linda Chiarelli, vice president for Capital Projects and Facilities, presented an update on the construction of 181 Mercer St. Among the building's amenities will be approximately 60 general purpose classrooms, a 350-seat proscenium theater, over 50 individual practice rooms, and over 400 freshmen beds. The megastructure will also feature a roughly 4,000-square feet North Atrium, which is required to be open to the public most days of the year. With regards to controlling its carbon footprint, 181 Mercer St. will feature more than 20,000 square feet of green roofs and is expected to conclude construction at approximately 10 percent below its original energy modeling. Chiarelli also mentioned that construction has thus far remained within the allotted budget. She added that 20 percent of trades for the building have been bought out, and she anticipates that number will climb to 33 percent in the next three weeks.
IV. REPORT FROM SUPERBLOCK STEWARDSHIP ADVISORY COMMITTEE
Tisch School of the Arts professor and Superblock Stewardship Advisory Committee member

Laurence Maslon spoke about recent changes made near Washington Square Village and Silver Towers. The changes include open space enhancement, fence removal, creation of dog-friendly areas and urban farm redesign on the sites of the residential buildings. The committee has hired a director of programming to engage the surrounding community. Additionally, it will continue work on its signage and wayfinding program on the premises.

"Signage, frankly, on the superblocks has been a total disaster," Maslon said.




"Enforcement is impossible without proper, clever and organic signage, so we have happily figured out what the open space usage wants to be, and we have engaged a tremendous company called Gensler who we worked with now for a year and a half [to choose] the best and most attractive and clear signage we can from the ground up."
V. PRESIDENT'S REPORT
In the President's Report, Hamilton focused on the university website's accessibility and sexual misconduct policy, especially in light of the recent #MeToo shakeup. He said that the university will announce later today the introduction of a program that will makes its website more user-friendly to people with visual, hearing or other impairments.

"The challenge of material on the web, the speed with which technology has advanced in recent years has made it difficult for people visually impaired, people hearing impaired, to access educational materials," Hamilton said. "This commitment to this new website policy very much aligns with the university's commitment to inclusion and also very much is aligned with federal regulations and the expected standards. We had this process last year when our websites, like those of many universities in the [United States], were found to be out of compliance by the Dept of Education's Office of Civil Rights. We have been since then working closely with the Office for Civil Rights to develop a university-wide plan to address this."

Title IX Coordinator Mary Signor briefly went over differences in protocol of sexual misconduct investigations, depending on whether the accused is a student or faculty member. The key difference is that faculty do not have the right to appeal the case, while accused students do.

"I think everyone in the room would agree with me that the #MeToo movement that we have been seeing unfold nationally over the past several months have shown just how pervasive sexual assault and sexual harassment is in our society, whether it be in the entertainment industry, in other workplaces or indeed on college campuses, even in the past days," Hamilton said. "The focus on the #MeToo movement has created an opportunity for all of us to engage in a dialogue here at NYU that will lead to change, to less sexual harassment and violence, to less intimidation and fear, and we hope more justice."
Email Sarah Jackson at [email protected]
Hang on for a minute...we're trying to find some more stories you might like.
About the Writer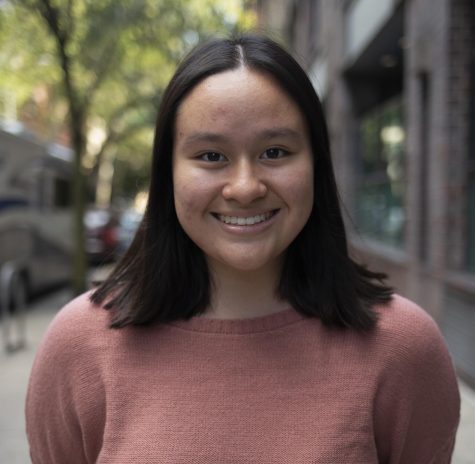 Sarah Jackson, News Editor
Sarah is a junior in CAS who has changed her majors more times than she'd like to admit. In her free time, she can be seen avoiding coffee, trying (but usually failing) to contain her excitement when she sees a corgi on the street and wishing she could afford to go to the opera more...