Skirball Unveils Exciting Fall Season
By Daniella Nichinson, Arts Editor
August 26, 2018
Hang on for a minute...we're trying to find some more stories you might like.
When it comes to the arts, there is no better city than New York for immersing oneself in everything from the whacky to the well-known. Uprooting the intricacies of the city's art and theater, however, can be difficult to do alone, which is where the NYU Skirball Center for the Performing Arts comes in.
The center's fall season kicks off on Sept. 8 with "And On the Thousandth Night," from U.K. theater company Forced Entertainment. This peculiar piece of storytelling riffs off of "Tales of the Arabian Nights;" with tales told from midnight to sunrise, resulting in a marathon of drama, humor and provocative dialogue. This idiosyncratic performance will satisfy any desire for an out-of-the-box thrill.
Calling all thinkers: as part of the Karl Marx Festival running from Oct. 17 to 28, Skirball will host quirky Slovenian philosopher and NYU Global Distinguished Professor of German, Slavoj Zizek. The night will be dedicated to a discussion of a Marxist view of the commons — a collection of spaces shared by the public rather than owned by the individual — and how it applies to the current digital age. The discourse will continue with an analysis of late Marx theorist and Soviet politician Leon Trotsky's execution of the October Revolution and its links to Marxism. This rare opportunity to probe the mind of a fascinating, prolific philosopher is one that beckons to be seized.
On Nov. 17, "Fantasque," an unconventional dance piece, will have its New York premiere at Skirball. From choreographer John Heginbotham and puppeteer Amy Trompetter, "Fantasque" brings together dancers and puppets onto the stage for an uncanny and striking performance. With roles from giant babies to tuxedo-wearing fish, "Fantasque" thrives on surrealism and remarkable visuals. Combined with an examination of morality, this offbeat performance is bound to be unforgettable.
Skirball's fall season comes to a close on Dec. 9 with a broadcast of "The Madness of George III" from National Theatre Live. This classic from British playwright Alan Bennett portrays King George III's slow descent into madness. Exploring themes of power, deception and insanity, this production promises to deliver a Shakespearean spectacle that is both gripping and sensational.
A version of this article appeared in the Sunday, Aug. 26 print edition. Email Daniella Nichinson at [email protected]
Hang on for a minute...we're trying to find some more stories you might like.
About the Writer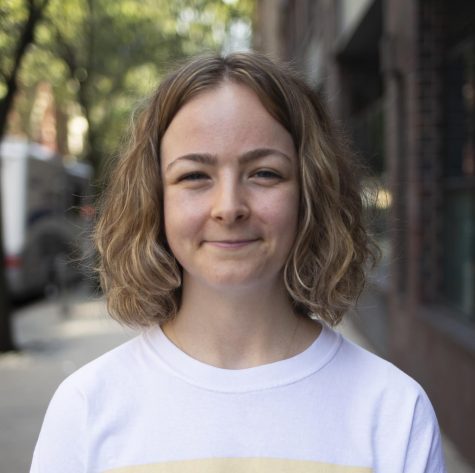 Daniella Nichinson, Arts Editor
Daniella is the co-Arts Editor and is studying Marketing and Creative Writing, but lately has gone through the utterly clichéd phase of life known as an "existential crisis." In her mind, it is still the 1970s because Pink Floyd reigns supreme and Jack Nicholson is a heartthrob. When Daniella abandons the delusions of her own...