This Gallatin Junior Sings and Studies Love
Hang on for a minute...we're trying to find some more stories you might like.
Amid twinkling multi-colored lights and the endearing atmosphere that only a NoHo dive bar could offer, singer-songwriter and New York native Michael Manzi took to the stage at campus hotspot The Bitter End. He spent the Friday night sharing meditations on love and its various manifestations — a theme which also underpins his academic studies at NYU.
The Gallatin junior has declared a concentration on "Love: Creating a Culture of Self Transcendence," rejecting love as an unattainable possession and instead valuing it as a state of mind that can be applied to every type of relationship. Manzi blends a variety of mediums into his studies, including physics, psychology and art, yet his music seems to most effectively portray his core beliefs.
"My major involves the relationship between the feelings of love and transcendence and how the arts can play a role in that interaction," Manzi told WSN. "I've found that the things I'm studying are the sort of operating principles behind the process of creating a piece of art, from the moment of having an experience to the moment I represent that experience."
At the famed hot spot for emerging local musicians, Manzi played a full acoustic set of original songs, including a song for a new musical, "The Process," which he is in the process of writing. The reflective and chaotic "Tornado Song" started the set, single-handedly displaying the emotional range Manzi proudly incorporates in all his songs. The dynamics of his instrumentation on the guitar — and keys when he is in the studio — successfully won the crowd over, and soon the entire venue began toe-tapping and head-bopping to Manzi's whimsical, catchy hooks.
Further into the set, Manzi performed "Somebody's Body," a slower folk ballad leading with a whisper of guitar and vocals. The tune quickly picked up into a groove-driven riff in the later verses as Manzi's vocals waxed, this time bellowing
the chorus.
But perhaps his most forward rumination on the ties between love and art is "Hastings,"  a fast, rock-driven tune that shone during the set. It was clear how emotionally tied Manzi was to the song itself as he pondered through carefully written depictions of love and what accompanies them.
"There is a sort of overarching story within the universe of my songs, one that depicts a positive world view," Manzi said. "As surrealist as some of my songs are, they're all autobiographical, so in a sense, even the ones that appear to be sad are expressions of love and gratitude and what I'm capable of feeling."
Yet, the most enjoyable piece of the night was Manzi's final ballad: "Copper." The layered acoustic tune was reminiscent of early indie-rock in all its simple yet compelling glory. His first single released in October of last year, the track brings back visions of Modest Mouse and The National, complete with modest indie-rock snares and a live cellist. Earnest lyricism coupled with quaint yet powerful instrumentation driven by the emotion in Manzi's voice, brought the show to a an anthemic crescendo. Minimalistic yet captivating, Michael Manzi illustrated his outstanding potential at The Bitter End.
A version of this article appeared in the Tuesday, Sept. 4 print edition. Email Nicole Rosenthal at [email protected]
Hang on for a minute...we're trying to find some more stories you might like.
About the Writer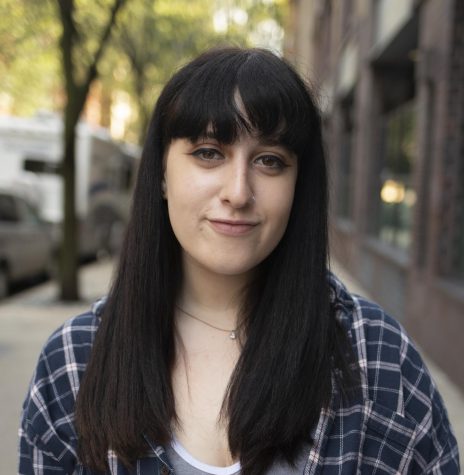 Nicole Rosenthal, Music Editor
Nicole Rosenthal is the Music Editor for the Washington Square News and a dual Journalism and Psychology major at New York University. Born and raised on Long Island, Nicole has always enjoyed listening to music and attending concerts in nearby NYC, making playlists which include everything from the B-52's to Brockhampton to Bon Iver. She...