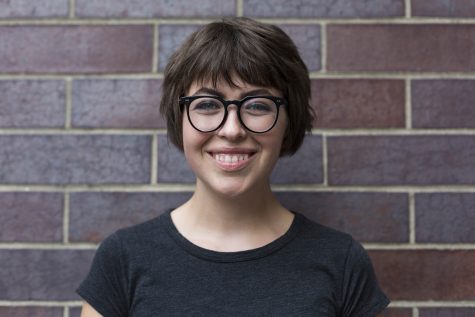 Paris
Martineau is the Deputy Opinion Editor for the Washington Square News. She is a sophomore studying comparative literature and journalism (she aims for the big bucks, obviously). When she isn't shouting her opinions into the void,
Paris
spends her time doing activities like trying to consume as much black coffee as humanly possible, and arguing with strangers about the legitimacy of the oxford comma. Follow her
on Twitter
for 140 characters of disappointment, all day, every day.
Paris Martineau, Deputy Opinion Editor
Mar 07, 2017

HeForShe Arts Week Brings Gender Equality to the Global Stage

(Story)

Jan 23, 2017

Q&A: The New NYU Secrets Admin

(Story)

Dec 05, 2016

Read It and Weep: We Need Actual Reading Days

(Story)

Nov 28, 2016

Your Guide to Getting an IUD at NYU

(Story)

Nov 11, 2016

In a Trump World, I Am Lost

(Story)

Nov 02, 2016

Violets, Torches Are Dull, Embrace the Bobcat Instead

(Story)

Oct 04, 2016

For Discipline in Politics, Turn to Veep Debate

(Story)

Sep 26, 2016

Bobst Is Not The Place To Protest

(Story)

Sep 21, 2016

I Tried: Only Consuming Soylent For a Week

(Story)

Sep 06, 2016

Facebook's News Algorithms Lack Human Touch

(Story)

May 02, 2016

Let Uber and Lyft Ride on Outside Manhattan

(Story)

Apr 25, 2016

Council Elections Deserve Student Attention

(Story)

Apr 19, 2016

Congressional Candidates Need Big Money to Survive

(Story)

Apr 12, 2016

Good Riddance to Intrusive Birth Control Prescriptions

(Story)

Apr 07, 2016

E-books Revolutionize Reading

(Story)

Apr 05, 2016

Gender-Neutral Bathrooms and General Common Sense

(Story)

Apr 04, 2016

Try Alternative Coffee With Cups

(Story)

Mar 28, 2016

Voter Suppression Is Not a Clinton Conspiracy

(Story)

Mar 23, 2016

Clinton Beats Sanders on LGBTQ Rights

(Story)

Mar 21, 2016

From Spring Break to Coffee Break

(Story)

Mar 07, 2016

Trump Attacks First Amendment Rights

(Story)

Feb 29, 2016

Face It, People: Just Pay for Tampons

(Story)

Feb 22, 2016

'Deadpool' Makes R-Rating Mainstream

(Story)

Feb 18, 2016

Stay Out of Womens' Sex Lives, CDC

(Story)

Feb 17, 2016

Brew It Yourself: Fueling Your Caffeine Addiction

(Story)

Feb 17, 2016

Strap in for 30 Plays in 60 Minutes

(Story)

Feb 09, 2016

Pray the Perils of Conversion Therapy Away

(Story)

Feb 04, 2016

IUD's Are the Ticket to Sexual Liberation for Women

(Story)

Sep 23, 2015

The Weekend: September 25-27

(Story)