By Katherine Stein, Contributing Writer

March 9, 2015

Filed under News
The Student Senators Council and University Committee on Student Life introduced the architects for the Coles Redevelopment Project to students.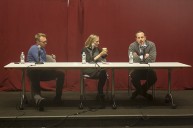 By Christine Park, Contributing Writer

April 30, 2014

Filed under News
A diverse group of professors explored innovation in their respective fields at the first Innovate New York panel. The event, held on April 29 at the Global Center for Academic and Spiritual Life, was hosted by the Undergraduate Affairs Committee of the Student Senators Council and the Universi...