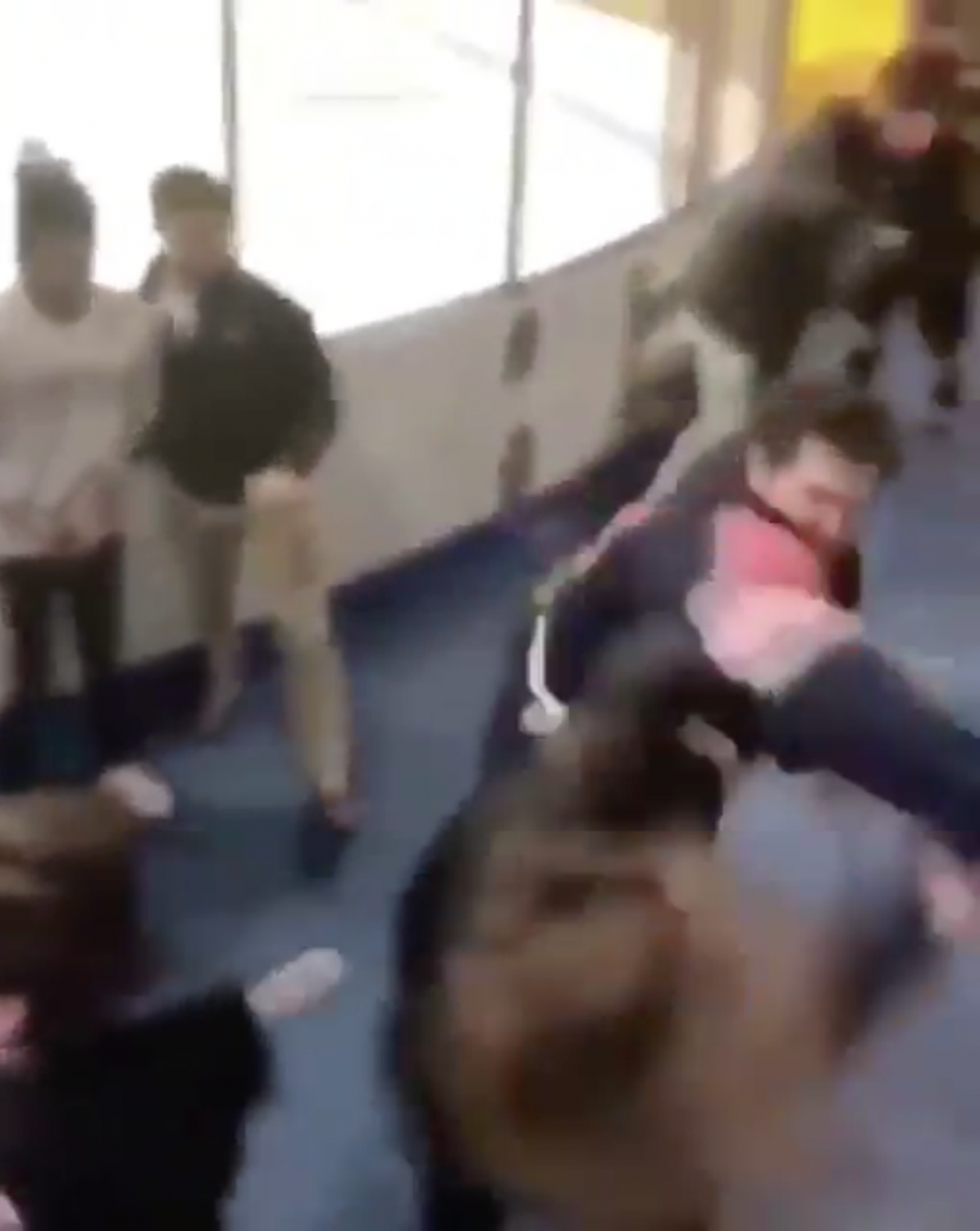 An altercation at Chelsea Piers' Sky Rink last Saturday between Syracuse hockey players and NYU fans attending the game has resulted in the suspension of the Syracuse men's club hockey team, according to  Syracuse.com.
According to NYU Hockey student manager Fred Moody and NYU Director for Sports Information Jeff Bernstein, the fight occurred immediately following the game, which NYU won against Syracuse in overtime. No NYU players were involved in the fight. That same evening, Barstool Sports posted a video on its Twitter page, which captured the beginning of the brawl. In the week since it was posted, the video has been viewed over 200,000 times.
The video begins mid-brawl and shows several fully padded Syracuse players shoving fans. At least four rowdy attendees can be seen hurling punches and shoving bodies against the rink's glass. A helmetless black-haired Syracuse player, identifiable only by the red 16 on his chest, can be seen wrapping his arm around the neck of a leather-jacket-clad fan, who quickly punches himself free. Regaining his balance, number 16 then delivers a direct blow to the fan's face.
Gassin beers and chuckin knucks @spittinchiclets pic.twitter.com/IBP28HJgJ6

— Barstool Sports (@barstoolsports) January 29, 2018
Moody, who was standing in the bleachers when the fight broke out, said it occured after one of the fans mocked a Syracuse player.
"A fan said, 'hey 17, hey 17,'" Moody recalled. "And then another player from the Syracuse team came over and was just like, 'hey back off man, back off!' Then, the Syracuse played shoved him, and when he shoved him, they just lost it after that."
Number 16 is no longer listed on Syracuse's active roster at the time of this report. WSN reached out to the Syracuse Athletics Department for comment, but was told that because of the team's club status, the athletic department was not involved in any suspension or punishment.
WSN also reached out to a man identified by others who attended the game as the individual involved in the fight with number 16. The NYU student declined to comment on the incident and requested that his name be left out of the story.
When asked to speculate on those involved, Moody said he could not say with certainty how many Syracuse players were wrapped up in the fight or if all the fans involved were NYU students.
"A lot of their players ended up in the scuffle," Moody said. "It would be harder for me to pick numbers that weren't in the scuffle."
Both Syracuse and NYU play in the Division I level of the American Collegiate Hockey Association. This was the second series of games the two teams have played against each other this season. The teams split their two previous games in Syracuse, and on Saturday, NYU looked to take a 3-1 lead in the series.
"They were really intense games both times," Moody said over a phone call with WSN.
The NYU team trailed 3-1, going into the third period but then scored two goals in 20 minutes to force the game to overtime.
OT is 5 minutes of sudden death, 3 on 3 hockey. #GoViolets #finishstrong

— NYU Ice Hockey (@NYUIceHockey) January 28, 2018
With tensions high, NYU Hockey won the game in the last second of overtime with a buzzer beater goal delivered by SPS sophomore Scott Mulligan.
NYU GOAL!!! 8⃣ Scott Mulligan wins it with seconds left in overtime!! #GoViolets

— NYU Ice Hockey (@NYUIceHockey) January 28, 2018
"It was pretty nuts, [the fans] just went wild," Moody said. "They were celebrating in the corner, and we were all celebrating near the glass."
And while a wave of jovial excitement filled the air for some, members of the Syracuse team said all they could smell was alcohol.
In an interview with The Daily Orange, Syracuse forward Keith Lambert commented on the fans who he described as "belligerent."
"They had full bottles of Jack Daniels," Lambert said. "[And] full bottles of Captain Morgan. They're bringing 30 racks in there. They're blacked out."
WSN reached out to multiple members of the Syracuse hockey team who said they were unable to comment on the record due to an ongoing investigation by Syracuse.
A Chelsea Piers employe told WSN that fans are indeed allowed to bring in their own alcohol. Alcoholic beverages are not sold at the Chelsea Piers Sky Rink, but patrons bring their own beer and liquor.
"There definitely were some people who had been drinking," Moody said. Moody described many of the non-university games held at Chelsea Piers as, "beer leagues," and said that alcohol was allowed.
The New York Liquor Authority's website specifies that BYOB, or Bring Your Own Bottle establishments, which allow customers to bring and to consume beverages on the site's premises must have a valid liquor permit. According to New York State Liquor Authority data, Chelsea Piers has several different liquor licenses. 
"Venues without a license or permit may not allow patrons to 'bring their own' alcoholic beverages for consumption," the website reads.
Bernstein said that the two universities had not previously experienced any notable altercations. According to him, NYU is currently working with Chelsea Piers to reevaluate certain security measures.
Chelsea Piers staff was not immediately available to comment on what these new security measures entail.
Multiple Syracuse players refused to comment, citing an ongoing investigation by the university.
A version of this article appeared in the Monday, February 5th print edition.
Email Mack DeGuerin, Sakshi Venkatraman and Maddie Howard at [email protected]