Hamilton Denounces BDS, Acknowledges Racism in Stern at Town Hall
Dozens of student activists, student government leaders and NYU administrators gathered in room 802 of the Kimmel Center for Student Life on Thursday evening for a public town hall with President Andrew Hamilton, Student Government President Juan Manuel Calero, Senior Vice Provost for Global Programs Linda Mills and Assistant Manager of Diversity and Inclusion Initiatives Krystal McLeod.
While the event was intended to focused on NYU's Global Network, activists from NYU's Student Labor Action Movement and NYU Divest pressed the president on issues of student representation and the university's fossil fuel investments. Hamilton also publicly announced his opposition to the decision of 51 student groups to boycott the state of Israel and other pro-Israeli student groups.
Around 50 students and several NYU administration members turned out for the panel.
SLAM and Divest Demand Transparency
During the Q&A session, several activists representing SLAM and NYU Divest took to the microphone to ask Hamilton questions. Despite the groups' recent streak of public activism and occupation of university buildings, the event proceeded without any major disruption from student activists.
Attendees were largely made up of student activists and student government members, and many of SLAM's questions and commentary received snaps from the audience. When Hamilton made points that student activists disagreed with, several audience members hissed.
"I take climate change very seriously and I have said so on many occasions," Hamilton said. "This is one of the greatest challenges facing the world in the coming decades and there are many ways of tackling it."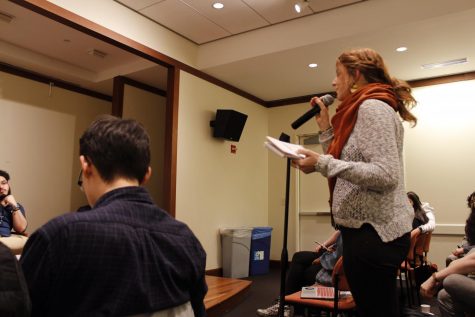 SLAM member and Gallatin senior Hannah Fullerton asked Hamilton how administrators and trustees will more effectively facilitate discussion between students, faculty and trustees. In response, Hamilton said that the university has made efforts to facilitate conversation in recent years and that he hopes to continue to facilitate conversation in the future.
The audience reacted negatively to Hamilton's answer, as NYU recently denied SLAM and Divest's demand for a public town hall meeting with trustees in the room. When asked why the university turned down this demand, Hamilton cited the nature of the town hall meeting, claiming that its public and potentially hostile nature would prevent productive discussion.
"Town halls are a different kind of format," Hamilton said. "They are not the most effective exchange of ideas."
NYU Divest member and GLS junior Ismael Ibrahim took to the mic combatively, criticizing trustees' 2016 decision against fossil fuel divestment. Ibrahim used this example in reference to Divest's skepticism that the Board of Trustees could make decisions in line with the student body's values.
Hamilton, saying that he is a believer in climate change and an ardent supporter of environmental research, admitted his disagreement with trustees on the matter.
"My personal opinion is not necessarily the same as the Board of Trustees'" Hamilton says

— Washington Sq. News (@nyunews) April 19, 2018
However, Hamilton said that both NYU and New York City still rely on fossil fuels, and said he feels unsure that NYU could feasibly power all of its resources relying solely on renewables. Deflecting the critique of the board, he said that most of us, by using airplanes and automobiles, are contributing to the climate crisis, and that it must be each of our individual responsibilities to make habitual changes in our daily lives.
Hamilton Denounces BDS Movement
Near the end of the town hall meeting, Hamilton was met with hisses as he vocalized his disagreement with the Boycott, Divestment and Sanctions movement.
"We believe the university exist to bring people together not to seperate them," Hamilton said. "For this reason I am opposed to BDS. The university will not participate in boycotting of academics based in Israel. We believe in academic freedom and the free flow of ideas. Boycotting is antithetical to that vision."
The formal denouncement from Hamilton comes just one week after 51 students groups, led by the Jewish Voice for Peace and NYU Students for Justice in Palestine, joined together in support for the pro-Palestinian cause: Boycott, Divestment and Sanctions. The signatories call for a boycott of the state of Israel and of pro-Israeli student groups Realize Israel and TorchPac.
"I am opposed to BDS," says President Andrew Hamilton

— Washington Sq. News (@nyunews) April 19, 2018
The BDS movement has sparked heated divisions on campus in the past week. Members from the Black and Brown Coalition at NYU said they have received verbal threats and harassment for their decision to support the BDS movement. Nearly 800 people have also signed on a pro-Israeli petition in opposition to the BDS movement.
Hamilton also announced that he sent a letter to the Israeli government condemning their decision to ban groups that support BDS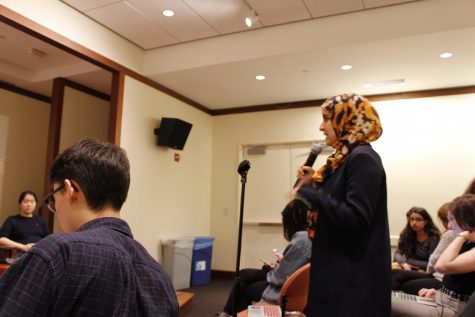 Racism and Islamophobia in Stern
Hamilton also addressed Stern School of Business senior Essma Bengabsia, who brought up issues of explicit Islamophobia and racism from students and faculty in Stern.
"The use of the N-word is very frequent around Stern around students of color, sometimes to them," Bengabsia said. "On several occasions this year alone, several Muslim students have been called terrorists to their faces … We've spoken on several occasions to administrators in Stern on many different levels and the responses we've gotten are things along the lines of, 'don't take it too emotionally,' 'don't take it personally,' 'it's your job to educate people.'"
Hamilton said that he was aware of issues brought to administration in the past.
NYU President Andrew Hamilton admits to knowing about claims of racism toward Muslim students at the Stern School of Business at Town Hall pic.twitter.com/XFlp1V7MNv

— Mack DeGeurin (@MDeGeurin) April 19, 2018
"What you've said is deeply distressing," Hamilton said to Bengabsia. "The incidents you described are completely unacceptable. I had been made aware of some of the concern and growing student unhappiness about the situation there. This is an opportunity and indeed Stern must take these concerns seriously."
Linda Mills, who has been in dialogue with Bengabsia, also responded to the concerns expressed during the panel discussion.
"It's very frustrating to hear that this has continued," Mills said. "We left the conversation at a key moment thinking progress had been made. The other thing I would say is that if you don't feel safe, we need to know and we need to take action."
"We don't feel safe, I'm telling you right now," Bengabsia responded.
In an interview with WSN, Bengabsia described her desire to have her voice heard by administration officials.
"I've been trying to push for more diversity and inclusivity in Stern since I was a freshman, so for three years now," she said. "We came here today because we know it still goes back to the same Stern dean we're trying to reach but they don't put this as a priority until they have Andy Hamilton or Linda Mills or someone else from senior administration emailing them."
Despite taking her concerns to senior administration, Bengabsia is still concered about the rate at which direct action will be taken. Associate Vice President for Student Affairs and Diversity Initiatives Monroe France said a 15 minute phone call between himself and NYU administration has been scheduled for Friday, April 20.
"It was a nice response, they said they were concerned but I'm also just hoping it turns into action," Bengabsia said. "We've been having conversations like this for over three years and it's just been at a standstill."
Stern first-year Reneen Khalil, who said she has been called a terrorist by more than one Stern student, told WSN about her feelings after the panel.
"[Hamilton] said that town halls are not very effective, so what is the point of having this meeting if you're not listening to students," Khalil said. "I think there were a lot of passive aggressive comments being made by the [panel]. They tried to stay as general as possible and didn't answer a lot of students' questions."
Global Mobility in Wake of Visa Denials
When asked by WSN what steps NYU is taking to ensure global mobility of faculty and students critical of host government, Hamilton repeated many of the same points he has made in previous public statements.
"A principal tenet of the Global network is the free flow of students and faculty throughout," he said.
Hamilton acknowledged the visa denials of professors Mohamad Bazzi and Arang Keshavarzian to the NYU Abu Dhabi campus, but went on to say that students and faculty have also experienced a rise in visa denials to the United States under the Trump Administration.
"We saw two faculty members unable to get visas for the Abu Dhabi campus last year," he said. "We also saw students unable to get visas to the United States and that is likely to increase in the coming years before it gets better again with this current government in Washington D.C."
Hamilton said that the university is acting to strengthen their office for visa support, which he said will offer students and faculty better guidance and information about visas and mobility for their particular abroad sites.
When asked why NYU's administration did not play a more active role in combating faculty visa denias, the president said that the university cannot control the laws and security clearances issued by foreign governments.
"The university does not give out visas, governments do," he said. "We have little control over that decision making process."
He said the university will press and do what it can to work with governments, but did not specify what these interventions would look like in practice. Hamilton said that while the university aims to address issues related to mobility, visa denials are an inevitable consequence foundational to the Global Network.
"I can't change the world and sometimes the world can be a mean and bitter place," Hamilton said.
Email the WSN News Desk at [email protected].
Correction, April 22: A previous version of this incorrectly said that the phone call regarding discrimination at Stern was to be between the NYU administration and Essma Bengabsia. However, the conversation was scheduled to be between NYU's administration and Monroe France.