Chinese activist Chen Guancheng discusses Chinese legal system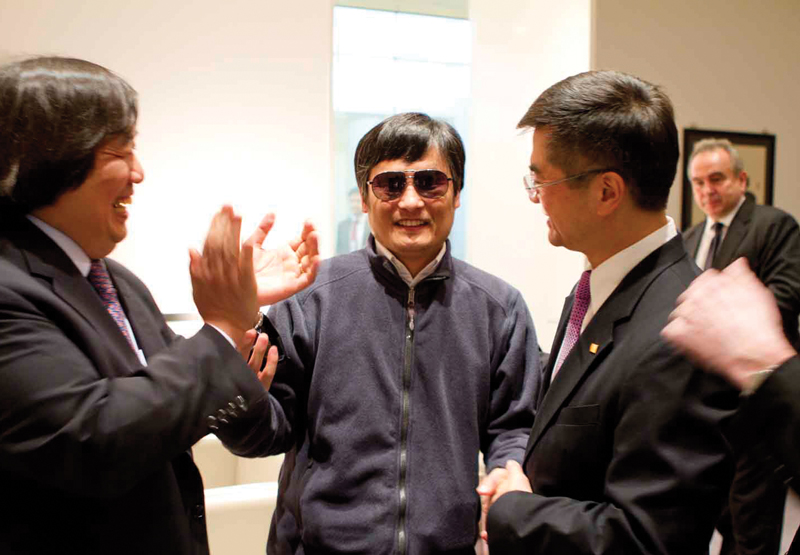 Chen has attracted significant international attention not only because of his robust legal defense of the disabled and underprivileged but also because of his unique story. After having lost his sight at a young age, he educated himself in Chinese law by having his father read legal books to him aloud. He fell into disfavor with the Chinese government after he mounted legal cases resisting China's one-child policy and the taxation of disabled persons. After being imprisoned and vigorously persecuted by the Chinese government for his activism, Chen fled the country and found refuge here at NYU.
When asked by Jerome Cohen to sketch the symptoms of legal dysfunction in China, Chen commented that "there are many good laws in China, and only a few unjust ones; however, the good laws are rarely enforced and the bad are enforced quite widely." He bristled with frustration as he discussed the unlawful imprisonment of his nephew, who is now being held in China in what many believe to be the Chinese government's revenge against Chen's activism.  Despite the fact that the Chinese government had promised to investigate the alleged illegality of his nephew's imprisonment, the investigation remained inert.  Chen solemnly recounted the injustice of his nephew's experience. "Not only have they not been investigated," he began, "but the officials who denied him proper representation have been promoted and my nephew sits in jail.
He discussed the social landscape of life in his impoverished Chinese village, and he spoke about the stress-induced fractures in the Chinese legal system. In addition to the various problems he elucidated, he shared his own solutions to these social problems. His analysis was wrapped in an eloquent combination of Chinese proverbs, Confucian sayings, and appeals to ideals like justice and duty. Towards the end of the talk, the former chairman of the World Bank rose from the audience and directed a question to the "blind lawyer." He asked about his position on "silent diplomacy," which emphasizes discrete, on-the-ground diplomacy rather than public activism. Chuckling, Chen suggested that this approach has troubling undertones of appeasement. "That is like dealing with a pillaging pirate by paying him the ransom he asks for."
Chen's colorful language carried on through his discussion of what China's future could look like. He offered a personal anecdote to describe why transplanting Western-style democracy may not necessarily be a solution to China's problems. Before he was imprisoned, Chen recalled planting two trees in his yard. When he came out of prison, he noticed that one tree had grown thick and strong in the soil while the other had grown frail and thin. He explained that two plants can grow differently in the same soil, and so too can countries react with varying levels of success to the same governmental systems. So what, other than a major governmental overhaul, would weed the injustice from the Chinese legal system and sculpt it into a monument for the ideals Chen mentioned? As the talk came to a close, Chen responded to this question. He spoke slowly and simply as he cited an old Chinese saying: "A society has to allow the good in its people to come out. And when people see injustice, they should do something about it. They shouldn't close their eyes to it. If people do this, society will slowly get better."
Before ending the talk, moderator Jerome Cohen shared a quote by Alexander Pope: "Hope springs eternal in the human breast." The challenges that face the Chinese people are formidable. But even if the future of the Chinese justice system is not bright, China and the entire international community can find hope in knowing that the injustices in the legal system will continue to be met with resistance.
Hang on for a minute...we're trying to find some more stories you might like.