De Blasio begins first mayoral term with focus on snowstorms, taxes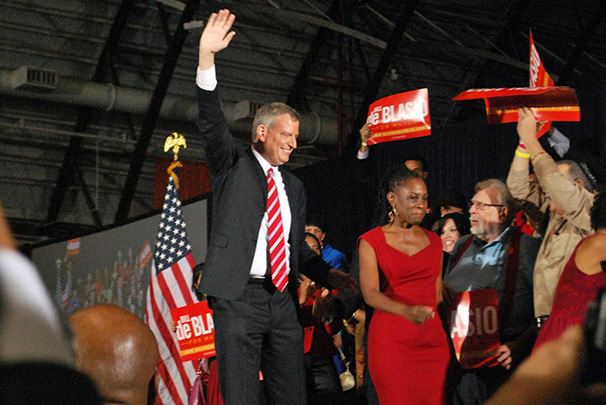 In the minutes after midnight on Jan. 1, Bill de Blasio was sworn into office as the 109th mayor of New York City.
One of the first challenges de Blasio has faced as the mayor of New York are the snowstorms. De Blasio made a statement advising caution due to the dangerous weather and temperatures on Jan. 3 and public schools were closed down for the day.
NYU was also closed on Jan. 2 and 3, and due to the snow on Jan. 21, classes ended early.
"Our crews will remain on the streets around the clock until the roadways are clear in every neighborhood, in every borough, across New York City," de Blasio said in a statement.
Since his inauguration, de Blasio has been working on several policies for New York City, including universal pre-kindergarten.
In his inauguration speech, de Blasio spoke about his five-year plan to raise taxes on those earning in the $500,000 to $1 million range in order to support universal pre-K. According to de Blasio, the tax will only increase at an average of $973 a year.
"Asking those at the top to help our kids get on the right path and stay there. That's our mission," de Blasio said in a speech. "And on that, we will not wait. We will do it now."
The president of NYU College Republicans, John Catsimatidis Jr., said de Blasio's financing plan will not work, even if the idea of pre-K is an honorable one.
"The wealthy New Yorkers that he would like to tax contribute a very large percentage of the overall tax revenue already," Catsimatidis said. "If their taxes are increased, many will inevitably leave New York [City], and that tax revenue will be lost— leaving the system worse than it is now."
LS sophomore Jack Zabelny said taxing the wealthy could be a difficult task to carry out.
"I think that alternative funding solutions should be considered, but the tax seems to be the best solution as of now," Zabelny said.
Politics professor Lawrence Mead said pre-K might not be as beneficial as de Blasio believes because similar programs, such as Head Start, have not had positive outcomes.
"I think we should be cautious here and we shouldn't necessarily rush into a big investment until there's reason to think that it's really going to produce results that de Blasio is claiming," Mead said.
Mead said de Blasio inherited the crime, welfare and education initiatives of previous mayors Giuliani and Bloomberg.
"The major policy issue that I think de Blasio faces is whether and how he's going to maintain those achievements going forward," Mead said.
De Blasio, an NYU alumnus himself, has placed other NYU alumni in city politics positions.
He appointed Anthony Shorris as the deputy mayor for operations. Before his appointment, Shorris was the NYU Langone Medical Center's senior vice president, vice dean and chief of staff.
De Blasio also appointed NYU Law graduate Zachary Carter as corporation counsel for New York City. Carter graduated from NYU School of Law in 1975 and served on the board of directors at NYU Law's Brennan Center for Justice.
A version of this article appeared in the Monday, Jan. 27 print edition. Ann Schmidt is a news editor. Email her at [email protected]
Hang on for a minute...we're trying to find some more stories you might like.