Omar's Oration: Sense of community can help heal wounds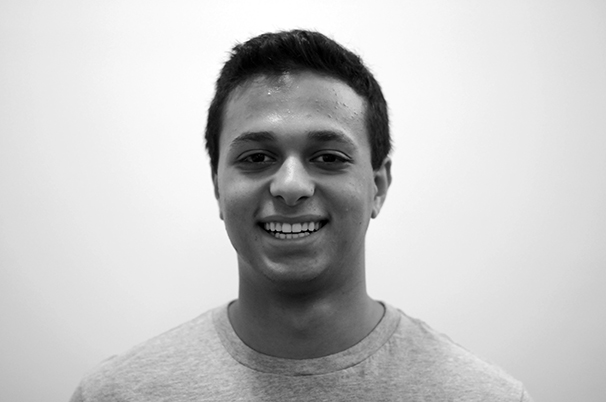 My friend's mom committed suicide on the first weekend after winter break. Upon hearing the news, I ran back to Rubin Hall, hoping my presence would somehow console her. My fingers and toes went numb as I sprinted home. Before I entered Rubin to hold the girl whose mom had become a memory, I stopped to sit atop the grates that line the brick exterior on the building's 10th Street side that were warmed from below by gusts of laundry room air. I wiped a few tears from my face, recognizing that I was supposed to be a member of the strong, comforting party that night.
The next day, I rode the 4 train in a direct trip from Union Square to Fordham Road. I was headed to Fordham University to visit a friend, hoping to escape the omnipresent sadness. The car I entered made the still air of the station platform seem cool. It smelled like a bathroom without ventilation. A man, sweaty and visibly uneasy, stood alongside me, panting as if attempting to expel bad news. I wondered what had upset him, but was too concerned with my own unhappiness to dwell on his. The subway car had mostly emptied by 125th Street. Only nine, including me, remained.
From my vantage point, I was able to examine my surroundings. I inspected one face for a few seconds before moving on to the next, assigning a probably untrue story to each mug. As I moved down the line, false narrative after false narrative, I detected a theme. When I reached the last face — it belonged to a small boy, maybe four years old, with round, defeated eyes — my observation was cemented. Sadness everywhere. I started crying on the 4 headed to the Bronx, overcome by struggle that was shared but unexpressed.
When the train neared the Fordham Road station, a young, fit woman in neon running shoes — the sixth in line — dropped a piece of paper she was holding. A younger man, probably in his early high school years, reactively pulled out his earbud and bent over to grab the paper. The woman, who kneeled in a way that suggested she was not going to be helped without first helping herself, nearly banged her forehead against the man's chest. But he beat her to the paper. She smiled when he handed it back, and her hazel eyes lit up with rejuvenated excitement. She was relieved, as if she had, until the connection of that moment, given up on humanity. I absorbed the scene once more, straightened my back, cleared my face and exited the train.
During the 10-minute walk from the station to Fordham University, wobbling with emotional unpredictability, I recognized the absurdity of my inaction. Why did I say nothing to the faces that I shared a space with for what felt like so long? I should have explained the cause of my sadness, giving them reason to do the same. My honesty could have liberated theirs. A half-hour later, after returning to a state of stability, I recognized the absurdity of my self-perceived absurdity. In what world do strangers express their problems to other strangers? I was drowning in La La Land. And while I still do not know if the emotion I detected in others was a reflection of the heaviness I was experiencing myself, I knew that the compounded sadness only served to amplify my own. I returned to NYU later that day, trying to remember why La La Land is considered such a bad place.
When individuals become strong enough to accept and express the often depressing realities of their own lives, we grow better suited to help others confront their own. At a university that is derided for its disjointedness, the unity that can come from the communication of shared struggle might be enough to reconnect an isolated student body. My friend who lost her mother gained a strong support system this semester, and though the warmth her friends provide may never equal that which her mother afforded, she has found solace in the recognition of our attempt, a reminder that healing happens more quickly and more effectively when it happens together.
A version of this article appeared in the Tuesday, April 29 print edition. Omar Etman is a deputy opinion editor. Omar's Oration is published every Tuesday. Email him at [email protected]
Hang on for a minute...we're trying to find some more stories you might like.