NYU's redesigned Hayden Hall brings sleek new amenities to campus
By Grace Halio, Deputy Features Editor
September 8, 2015
Hang on for a minute...we're trying to find some more stories you might like.
After a year under construction, Hayden Residence Hall opened this semester to reveal its extensive renovations. Incoming freshmen were greeted by a new, modern-style lobby, complete with slick marble, glass and chrome. NYU acquired the building, once an upscale hotel, in 1953. Since then it has undergone quite a few changes.
During the 2014-15 academic year first-year students were housed in the Affinia hotel in spaces specifically contracted by the university, as well as in Palladium which is traditionally an upperclassman facility.
NYU's decision to close Hayden gave way to a significant amount of planning and re-organizing, but all for a good reason. The building underwent its first renovation since the mid-1950s. Living spaces, bathrooms and common areas, including communal kitchens, game and music rooms, are freshly redesigned and look much like that of the recently renovated spaces in Brittany Residence Hall.
The basement of the building previously housed NYU's first swimming pool, which had been out of commission since the opening of Coles Sports Center in 1981. New life has been given to the space — it is home to a commuter student lounge.
Both first-year students as well as upperclassmen are impressed by the university's improvements. Tisch junior Lindsay Mayberry believes that although the construction caused inconveniences, they ultimately were for the better.
"I lived at Hayden my freshman year and I think what NYU has done is amazing," Mayberry said. "Taking a building out of use for a year is a big deal for such a large university, but I think it was worth it. The new space for commuters is great because it is so inclusive to a group that could easily feel like they are on the outside looking in."
Approximately 700 freshmen now have the opportunity to experience all Hayden has to offer. One of the least popular aspects of the hall, however, are the inconvenient elevators. Separated into low-rise and high-rise sections, they service different parts of the 16-floor building which student have found to be frustratingly slow. Steinhardt freshman and Hayden resident Alex Baranello points out that despite the upgrades, the elevators seem unable to accommodate the volume of residents.
"Hayden Hall is beautifully designed and provides more than enough space in the rooms," Baranello said. "The singular flaw about the hall is the fact that the elevators take forever at most times of the day."
Fancy lounges and elevator lags aside, campus is buzzing over the return of Hayden Dining Hall, known for its popular cookies. Gallatin sophomore Phoebe Walsh believes the building's convenient location on Washington Square West will transform it into a social hub for the NYU community.
"I'm definitely excited about having another dining hall on campus," Walsh said. "Hayden is so close to campus and makes grabbing a bite to eat in between classes especially easy."
Email Grace Halio at [email protected]
Hang on for a minute...we're trying to find some more stories you might like.
About the Writer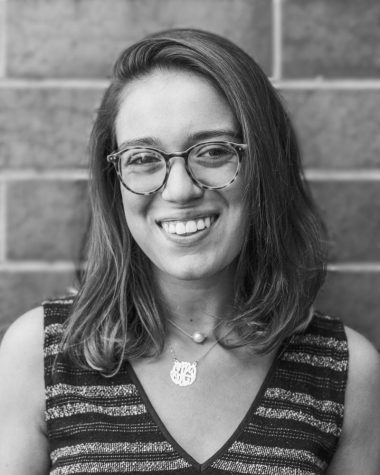 Grace Halio, Editor-at-Large
Grace Halio has spent the past three years working at WSN because her job has an actual title, unlike her concentration in Gallatin. She's studying how journalism and public art can be narratives for social and climate injustice, but has a soft spot in her heart for New York Fashion Week and all things Features...