NYU Reacts: The Return of the Astor Place Cube
Hang on for a minute...we're trying to find some more stories you might like.
What's black, square and spun all over? The Astor Place Cube.
This art installation located at 8th Street, Cooper Square and Astor Place is actually called The Alamo. Although it is nestled near many NYU buildings, at least half the undergraduate population has never seen this, since the cube was removed in Nov. 2014 for the area's construction. Here's what some students think about this installation's return:
"I'm surprised by it. I'm used to it being red — not black. It wasn't there, it was over here, and you were able to rotate it before. I don't know if you can rotate this one. It doesn't look like it. Not the colors, so no not really. It's a lot different than the other one that they had. The other one was just plain red and just like a regular cube." — Star Jimenez, CAS junior
"It seems like we're gonna be in a new Transformers movie, but other than that, I don't know. I mean it's not like those Trump statues, which I think should have stayed up because they were hilarious." — Jordan Shreffler, Steinhardt freshman
"For most tourists or passersby, I would imagine the site of a giant metal cube wouldn't evoke much emotion, and rightfully so. To be honest, I couldn't really tell you the historical significance of it outside my own sentimental connection. For myself and so many other upperclassmen, the Astor Place Cube is a reminder of our first year on campus. It was a check off of one of the many first year ice-breaker games, a landmark on my walk home from campus to Third North, and a fun fact to tell visitors to convince them — and myself — that NYC really was my new home. It's more nostalgia than anything else, but I sure am happy it's back!" — Maggie Ruzich, CAS senior
"It was one of the first landmarks I used to orient myself when I first moved to the city. At the time I was living in Brittany Hall and didn't know the area outside of the Broadway strip. One day, I decided to just wander and see where I wound up. Astor Place was so unfamiliar to me, and it was my first time seeing the cube. I had automatically begun to associate it with Astor Place since it was my first time seeing Astor Place at all. Then when it was removed, Astor Place felt awkwardly empty. It'll be nice to see it again. It'll remind me of when NYC was once so foreign to me but now has become home." — Shirley Lu, SPS junior
"It's nice to walk by something familiar! Also I'm glad that huge space is being used by a piece of art that I'm sure locals have to come to love. Astor Place felt like it was lacking in culture while the cube was gone! It's kind of like the return of an old acquaintance. Also, if its reinstallation means that construction is finally over, then I'm happy." — Joshua Quach, CAS junior
"The Astor Place Cube is one of those fixtures that makes our city what it is. It was gritty and attracted all sorts of interesting people and was an important meeting spot for me when I didn't know where anything was freshman year. There was once a rumor that someone lived in it, but I think it was actually an ad. I was kind of upset when they took it out because I thought it was gone forever, lost in the wave of new development. Now that it's coming back and being restored to its original glory, I couldn't be happier. It's like we're getting a piece of New York culture back." — Anika Maxwell, Tisch alum
"It's just like a fun symbol of NYU. A bunch of groups would gather there and it was such a pop culture thing to see the cube it was almost an important part of Astor place. When it was taken away it was such sad time that started as a joke, but when I saw it today back again it was weirdly heartwarming? It's just one of those things you latch on to as a part of your identity as an NYU student." — Nate Faust, Gallatin senior
"It was still around when I was a first year, and it was just this really well-known landmark for NYU students. It was one of our major sights for people to visit when we played our BINGO game in Project Outreach. I personally love it because they have a similar cube at the University of Michigan where my sister goes. Given that now she's off to college, it makes me feel like we have this small thing tying together our two schools." — Carolyn Fan, CAS senior
"There was a legend that a person lived in there and the constant turning of tourists would rock them to sleep. The cube is such a staple to the story that is Astor Place and I'm ecstatic that it's back for the next round of NYU students. I like it because of what it reminds me of. It was where the Quidditch team used to meet every Saturday and you would always see us standing near the cube in our jerseys. It was an assured thing for me my freshman year and that's not usually the case when you first start at NYU." — Victor Anthony, Steinhardt senior
Additional reporting by Jemima McEvoy and Natasha Roy. Email Diamond Naga Siu at [email protected]
Hang on for a minute...we're trying to find some more stories you might like.
About the Writer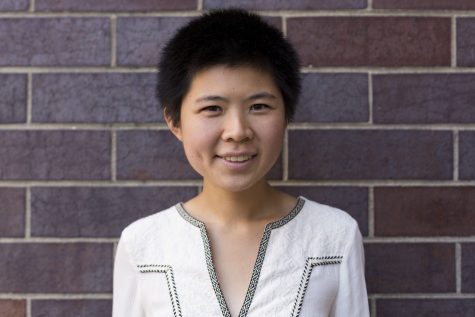 Diamond Naga Siu, News Editor
Diamond Naga Siu is the News Editor for the Washington Square News and is a sophomore studying Journalism and Educational Human Rights in Gallatin. When she isn't telling bad puns or eating everything in sight, you can find her volunteering with children, meandering the streets or talking too much. Diamond Naga jumped coasts from Los...