Hockey Ends Time in Division-II on Top
By Rachel Ruecker, Senior Editor
March 20, 2017
Hang on for a minute...we're trying to find some more stories you might like.
With Columbus Blue Jackets' Coach John Tortorella's "Safe is Death" mantra guiding the way, the NYU men's hockey team is your 2017 American Collegiate Hockey Association Division II champion.
The team opened the tournament on Wednesday, March 15 in round-robin play against Aurora University in a game that ended unresolved after 70 minutes, earning both teams a point in a 2-2 game. NYU goals were earned by sophomore forward John Kowalewski and junior forward Michael Conslato, whose goal was a nail-biter in the last minute of play.
Game two came the following day against Utah State University. The Violets routed the Aggies 6-2, gaining confidence in their offensive push, which included goals from freshman forward Scott Mulligan and sophomore forward Mason Gallegos in the first. Senior forward David Morgan opened the second period by scoring an unassisted ripper, followed by Conslato earning his second goal of the tournament later on. Utah State added their first late in the frame to bring the total to 4-1. NYU wasn't having it though, and Gallegos tossed one in within the first minute of the third. Utah State notched a second before the game was done, but an empty-netter from Mulligan served as the exclamation point to NYU's first win of the tournament.
The final preliminary game was on St. Patrick's Day against Florida Gulf Coast University, and the luck of the Irish would be needed if the Violets were to head to the playoff round, in a do-or-die game for both teams. FGCU got ahead by two early on, but NYU answered thanks to another goal from Gallegos and Conslato. The electric game went to overtime, but the Violets were able to steal the win thanks to a goal from sophomore forward Keaton Baum, who earned the winning 3-2 goal. The luck proved to be with the Violets as they headed into the following day's semi-finals.
Saturday's semi-final against Miami University of Ohio was a high-scoring , back-and-forth affair with enormous stakes. Miami drew first blood, but it didn't take long for the Violets to answer back to tie it, thanks to another from Morgan. Senior forward David Shaby got the go-ahead to put the Violets up going into the first intermission. Freshman defenseman Giancarlo Pochintesta scored his first of the tournament early in the second. The tension was rising for a desperate Miami team and NYU wasn't helping when Conslato and Baum each scored about a minute apart to move the Violets ahead to 5-1.
It was a scary end when the Violets got dealt a handful of misconducts and majors, leaving space for the Red Hawks to catch up. They scored a second before the second period was over and scored again in the third on a 5-3, then earned a fourth on even-strength. But hope was not lost when Gallegos scored the 6-4 goal for the Violets. Despite a scrummy end, the Violets were headed back to the championship game.
Sunday night's championship game against Liberty University was quite the game, replete with tension, penalties and traded one-goal leads, essential ingredients of a historical game, and for NYU, it truly was.
Baum scored first for the Violets, but Liberty tied the game at one before the intermission. In the second, NYU got its groove back at 6:32 with Mulligan's help — but not permanently  -— as Liberty tied the game and then some, going ahead 3-2 at 15:46. In a beautiful display, NYU tied the game with under a minute left in the frame thanks again to Baum.
In the third, it only took one goal. With under 10 minutes left in the game, Baum put NYU ahead of Liberty and the following final minutes sure were tension filled.
But as it turned out, the last game the Violets played in Division 2 was a happy one. The Violets earned their second National Championship in three year, and ACHA Division 1 awaits them in the fall. What a win. What a season. What a team. There's no one better to sum it all up than Head Coach Chris Cosentino.
"I am so proud of every player, manager and coach on this team," Cosentino said. "It is such a young group of players, and we came together to get the job done. This is a group of leaders who will go on to do great things and bring a lot of good in this world."
A version of this article appeared in the Monday, March 20 print edition.
Email Rachel Ruecker at [email protected]
Hang on for a minute...we're trying to find some more stories you might like.
About the Writer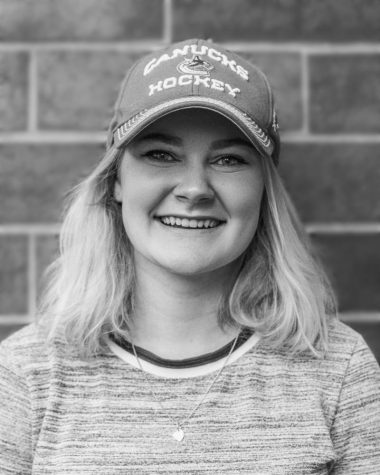 Rachel Ruecker, Editor-at-Large
Rachel is a Senior Editor here this semester, whatever that means. She really likes proving to people that she's complicated and as such spent last semester as the Sports Editor while also being a drama major in Tisch. She is happy to report (ha!) that she made it out alive, if barely. She is also...