"Oedipus El Rey:" Classical Tragedy Turned Current Event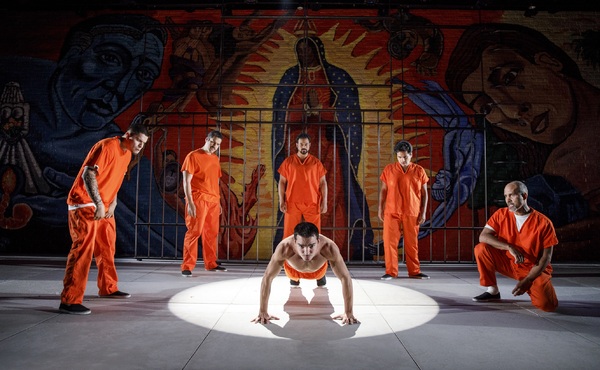 Hang on for a minute...we're trying to find some more stories you might like.
Vivid painted depictions of gods overlook a mural of the Virgin of Guadalupe with lights flaring onto her from below. Rows of prison bars stand guard in front of the mural, setting the scene in a Los Angeles prison. Prisoners leap from the stage speaking in thick Mexican accents, laughing and gesticulating at the audience, generating a palpable unease. This is not what one would expect upon going to see a classical Greek tragedy, but it is definitely not the first surprise of the night.
The play, "Oedipus El Rey," written by Luis Alfaro and directed by Chay Yew, has just begun previews at The Public Theatre not far from NYU's Manhattan campus. Sophocles' classic play, "Oedipus Rex," is revived as a harrowing story about a Mexican gang leader who receives the prophecy that his son will kill him and sleep with his wife. He attempts to kill him, but Oedipus is saved by the blind prophet Tiresias. Narrated by a Greek chorus of Mexican gang members, Oedipus is introduced years later as a prisoner alongside his father figure, Tiresias. As the play goes on, Oedipus fulfills each prophecy, unknowingly killing his biological father upon encountering him on the road from Las Vegas to Los Angeles, then falling in love with and sleeping with his mother, Jocasta. However, it is clear that the prophecy is not fulfilled through Oedipus' own choice. Without the trouble he faces in getting a job or finding a place to live as a recent convict, he would have never crossed paths with either his mother or father.
The performances by Juan Castaño as Oedipus and Sandra Delgado as Jocasta are brilliant. The actors maintain a sexual tension that is prevalent in a twisted situation. Oedipus and Jocasta go from being wary strangers to passionate lovers over the course of one scene. This rapid development would seem unrealistic if not acted by actors who can convey their strange connection. While the graphic sex scene that follows may seem gratuitous, it further emphasizes the repulsive situation. The audience feels completely engaged as if they participated in the act of incest with them.
The incredibly realistic scenes of violence and sex are used to show the dangerous lives of these characters. The most compelling part of the story, however, is that no one chose this life. Like Oedipus, their lives are controlled by destiny.
It is easy to look at classical plays and see them as dusty, old reproductions of the same story over and over again. However, contemporary theatre, most notably The Public, is reinventing these plays, illuminating their original notability by placing them in a 21st century setting. This Greek tragedy is not only taught in the classroom but is being placed in other contexts, such as the U.S. prison-industrial complex. Oedipus is led into his life of crime at an early age due to his socioeconomic status and lack of options and after being convicted, there is no way for him to achieve the life he desires. As the play ends, he asks the question, "What's fate, and what's just the system?"
Email Emma Hernando at [email protected].
Hang on for a minute...we're trying to find some more stories you might like.