Divest and SLAM Confront High-Profile Trustees in Kimmel
By Alex Domb, Deputy News Editor
December 11, 2017
Hang on for a minute...we're trying to find some more stories you might like.
Members of NYU Divest and the Student Labor Action Movement occupied exits of the Kimmel Center for University Life to track down trustees following Tuesday's Board of Trustees meetings. The organizations documented the majority of Wednesday's efforts on an Instagram Live video, which was posted on NYU Divest's Instagram account.
At the conclusion of the meeting, a group of Divest and SLAM members attempted to enter the ninth floor of Kimmel, where the trustees met, through the building's staircase. According to a joint press release published by the groups, they were denied access on three separate occasions. Due to its inability to access the meeting, the group split up and occupied Kimmel's exits, where members waited for trustees to leave the building.
One group confronted billionaire trustee and NYU Stern alumnus John Paulson as he attempted to leave the building. The group asked Paulson if he was aware of the groups' campaigns. According to the press release, Paulson affirmed that he was aware of their efforts, and said he felt that their demands are thoughtful.
A SLAM member gave Paulson the group's contact information, and Paulson said he would be in touch. SLAM and Divest members additionally asked for Paulson's contact information, and he said this information is already available to the public. The groups' members told Paulson they had made several attempts to contact him, and Paulson did not respond to their claims.
Another group of organizers encountered Chair of the Board of Trustees William Berkley but were unable to engage in a conversation with him.
The group feels the trustees, in general, attempted to avoid confrontation and evade questioning when confronted by Divest and SLAM. Divest's Instagram account and the press release recount multiple instances in which trustees attempted to avoid the groups and to covertly leave the building through discreet exits.
"We remain astounded and confused at the fear the world's most powerful financial figures have shown when faced with a small group of students asking for transparency and accountability," the press release read. "Their persistent evasiveness and elusion crosses into absurdity and only leads us to suspect there is something they do not wish for students to know about."
University spokesman John Beckman disagreed with the group's sentiments.
"Students do have access to the Board, in ways both formal and less formal," Beckman said, citing several instances in which students have previously been able to engage with trustees. "As to NYU Divest specifically, it seems worth noting that they did meet with Trustees as well as senior university officials on several occasions as the Board was proceeding with its deliberations about divestment last year."
Divest noted that NYU Director of Investment Operations Jeffrey Rathgeber watched the entirety of the Instagram live story via his personal Instagram account.
"Having called the Investment Office multiple times during Divest's occupation on Friday with no response, we are somewhat dismayed that the Investment Office does take interest in our activities, but does not want to communicate with us," the groups said in the press release.
NYU Amnesty International, a student organization, told Divest and SLAM that its pre-planned meeting earlier in that day had been affected by the concurrent Board of Trustees meeting. According to the press release, Amnesty International was allowed to remain in its reserved room, but members had to be escorted off of the floor by campus security upon departing. Amnesty International has not responded to WSN's request for comment.
CAS alumnus and Divest member Lola Shoshana expressed limited optimism about the effects of Divest and SLAM's efforts.
"[The actions resulted in] a somewhat improved understanding of Board-student relations for us, and hopefully for the NYU community as a whole," Shoshana said.
SLAM member Hannah Fullerton said the trustees were fostering an unhealthy relationship between themselves and students.
"What was most evident from our interaction with the trustees last night is the lengths our administration is willing to go to order to keep students and trustees separate," Fullerton said. "We envision a very different relationship between trustees and students, one marked by transparency and dialogue rather than avoidance and fear."
Email Alex Domb at [email protected]
Hang on for a minute...we're trying to find some more stories you might like.
About the Writer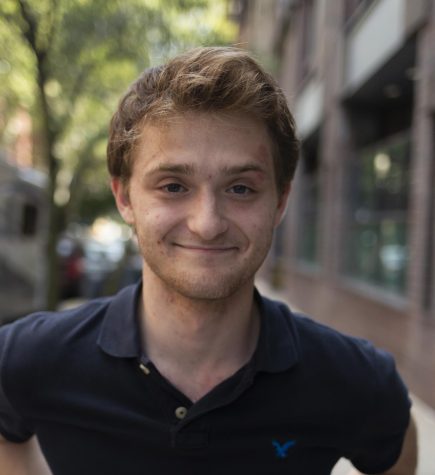 Alex Domb, News Editor
Alex is a sophomore studying Politics and Journalism in CAS. He holds dual U.S. and U.K. citizenships, but he grew up in central New Jersey and will take advantage of any excuse to defend his home state at all costs. In his spare time, Alex enjoys debating the latest NBA trade, attempting to navigate the...