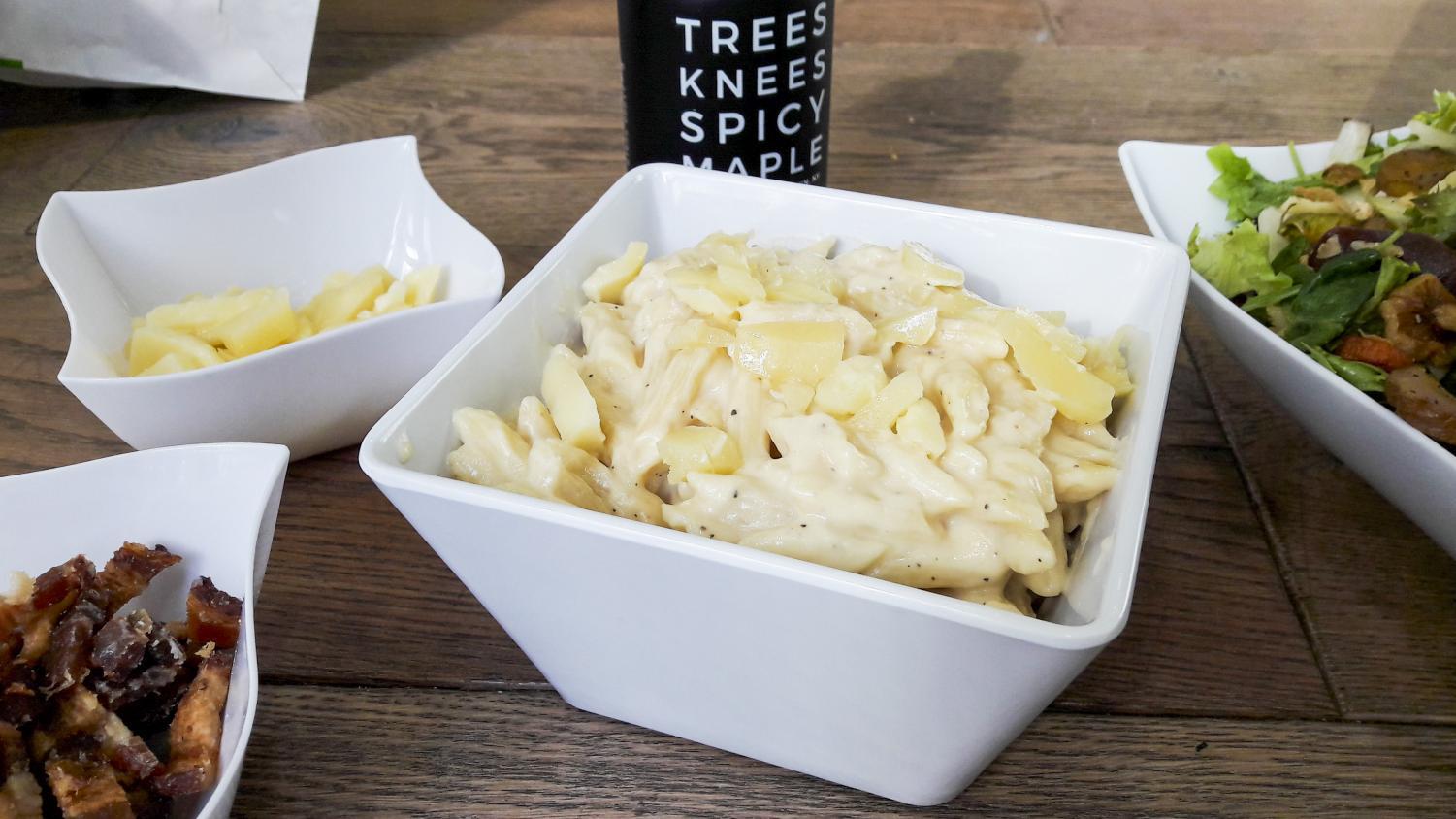 Let's face it: February is here, and our Jan. 1 clean eating resolutions have already dissolved. Between deadlines and freezing cold days, we need one thing to keep us going: soul food. Nothing wards off the biting weather like a nice warm dish that reminds us of our childhood, of coming home after playing in the snow or of snuggling up by the fireplace. No food meets that criteria quite like mac and cheese.
Just to be clear, I am not talking about weirdly colored, boxed powders but the real thing. I'm referring to stringy-creamy cheese sauce, pasta cooked to just the right point and everyone's favorite topping — bacon. Are you hungry yet? Well, I'll take you along to our newest, cheesiest  discovery in the city.
The hottest new mac and cheese destination is — insert drumroll please — Fresh & Co. Freshly debuted on Jan. 9, is an exciting new addition to the popular chain's menu. Now, I know what you might be thinking. A clean, fast-casual restaurant with sparse arrangements of shrubbery and plenty of salads — how could that simultaneously house creamy, comforting mac and cheese? The secret is its current seasonal cooperation with Beecher's Handmade Cheese. Combined with locally and sustainably sourced ingredients, Fresh & Co promises super cheesy mac and cheese between $4.95 and $6.95.
Of course, I had to try it. The moment that the bowl of pasta, cheese sauce, extra cheese curds, thick-cut maple-glazed bacon and Trees Knees spicy maple syrup found itself before, I already felt a little more at home. And that smell. Cheesy for sure — thanks to Beecher's flagship cheddar— and on top of that, I was excited by the sweetness of maple syrup and the, well, bacon-ness of the bacon.
And not just me. With a slight undertone of jealousy, my table neighbor remarked, "That mac and cheese looks so good," looking down at her own salad with disappointment. That's how New Year's resolutions come an end.
I have to admit, eating at a healthy-ish fast-casual chain, I felt the need to add some greens to my meal as well. I went for the Winter Foragers' Cobb Salad, which was just delicious with rainbow carrots, brussel sprouts, apple, walnuts and Beecher's 'New Woman' cheese. However, this is about mac and cheese, so here is my take on that: my neighbor was right, when her expert glance said "so good." My favorite part? There was plenty of flavorful, cheesy sauce to really indulge in. And I am not just talking cheese-flavor, but actual cheese in the sauce with curds on top. The maple syrup was also a perfect complement, adding a hint of sweet and spicy to the mix. In short, soul food heaven.
Even as I'm writing, I can't help but crave it, so let me keep this short: if you love mac and cheese, give the Fresh & Co seasonal dish a try. Take it to go for your lunch break or enjoy it in the coziness of your room. And make sure you think of your roommates, too —  you don't want  too many jealous glances shooting in your direction.
A version of this article appeared in the Monday, Feb. 5 print edition. Email Franziska Winterling at [email protected].