The Specter of Student Loans
Stories from Three Individuals Facing Financial Hardship at NYU
LS sophomore Gabi knew she wanted to escape the sleepy San Diego suburb of San Marcos after she graduated from high school but anticipated the financial strain it would place on her family.
Her father receives a pension for having served in the marines and works in a sandwich shop to make ends meet. Her mother owns a small business that loses money most years.
"In my hometown, not very many people leave," Gabi said. "There were a lot of kids that I knew that had these big ideas that wanted to go out of state, wanted to go anywhere else but couldn't because their parents didn't have the means to do it. It was never like that for me. I told my parents I want to go to the most expensive school, and I was never met with resistance."
Gabi receives $32,000 in financial aid through an LS scholarship. The remaining $40,000 worth of direct and indirect expenses are covered either out of pocket or through loans. Gabi's dad promised to pay off any loans that she accrued for her undergraduate education — loans that will amount to around $150,000 by the time she graduates.
"It's terrifying," Gabi said. "It's something I stress about every day."
NYU is notoriously expensive. NYU's sticker price is more than $10,000 greater than the median American household's entire income. The paltry amount of financial aid NYU awards — compared to other elite universities — exacerbates financial problems for students. Just two percent of students receive merit scholarships, according to a financial aid representative working at StudentLink Center, and the university is ranked 436th out of 571 in its institutional aid rate according to the Open Education Database.
Just 6.4 percent of students have their financial need fully met by the school and on average, only 60 percent of students financial need is met by NYU, according to US News and World Report.
Though Gabi had the option of attending cheaper schools where she would have received more financial aid, she wanted to go to NYU, and her parents told her they would make it work whether or not that meant more work, more debt and more stress.
To ease her family's finances, Gabi worked 40 hours a week as a Starbucks the entirety of her first year in college and into Oct. 2017.
"I pushed through working all those hours because it felt like it was the best thing to do to repay my parents," she said. "I had my spending money. I had money to help out and send back home when my mom needed it."
Gabi described her schedule as hellish.
"It sucked," Gabi said. "My mental health was at its lowest; my grades were suffering. I felt guilty about not having that money."
Gabi has quit her job and now focuses on making the most of her education. She's seen her grades rise and her stress levels fall since. This year as a sophomore, she's found support in her roommates who care to understand her financial situation.
She wants to go into sports journalism or communications when she graduates. Though initially she had planned on going to graduate school, she's had to revise her plans.
Gabi's financial reality affects her present and future.
"It influences every decision I make whether it's 'are you going to go grocery shopping today or are you going to reload your laundry card?'" Gabi said.
Gabi is among the 46 percent of NYU students who have taken out loans to pursue their education.
******
Evelyn, who graduated from the Gallatin School of Individualized Study last spring, also worked full-time while she was at NYU — first as a tutor, then as a baker. Though she received $25,000 in scholarship money per year from NYU, she commuted from Jersey City because it significantly reduced her costs (room and board for a year is over $17,000).
"I don't think people realize how much time commuting takes up," Evelyn said. "I spent at least four hours a day just commuting."
On top of that she was a member of NYU's crew team. In season practices were at 5 a.m., meaning that Evelyn had to leave her house at the crack of dawn.
After practice, the crew team would eat breakfast at a dining hall, but Evelyn didn't have a meal plan.
"That was always a little bit of an awkward situation where I didn't have a meal plan because it was just too expensive," she said.
Evelyn comes from a single-income household. Her dad is a construction worker whose work can be inconsistent, especially during the winter months. Ultimately, she had $10,000 in tuition, fees and costs she couldn't afford each year. She graduated $40,000 in debt.
She currently makes $40,000 a year working for a houseware manufacturing company and still lives at home with her parents. Each month she needs to pay off $500 of her student loans.
"The entry level pay is really hard to manage student loans and transportation cost, and even thinking about paying rent is impossible with the paycheck I have right now," Evelyn said. "I feel like I'm barely above water just trying to make it from one paycheck to another."
Evelyn wanted to go to law school upon graduation but was unable to afford the application costs and classes to practice for the LSAT — NYU Law School's application fee is $85, though they do offer fee waivers, and LSAT classes from Kaplan can cost over $1000. She is currently saving to afford the totality of the costs to apply to law school.
Though in some ways, Evelyn's financial inability to attend law school feels unfair to her, she thinks that the hardship she's had to endure could help her application and personal statement.
"I feel like I have a legitimate reason to go to law school, and it's not just because my parents went to law school," she said. "It's a personal decision."
The resilience Evelyn showed in college — working a job, managing her finances, maintaining her grades — to persevere through sleepless nights and mountains of work has helped her after college.
"I was exhausted, and I honestly don't know how I made it," she said. "I think it's like when moms first have a kid, and they're able to function on almost to no sleep. I think I did it because I had to do it, but I didnt get more than five hours a sleep a night, and there were some days when I questioned how I would make it."
Ultimately, she did make it, despite continuing to face financial hardship. She is on her way toward having the means to apply to law school and hopes to begin in the fall of 2019.
****
Alex, a student in the Stern School of Business, wants to break into social entrepreneurship at some point. But he's currently looking to get a job in consulting or investment banking after he graduates to help pay off the $150,000 in debt he will have racked up by the time he graduates.
In more ways than one, Alex bucks the Stern stereotype. He's not just amicable and friendly but a genuinely nice person. He never hesitates to help a classmate when necessary. He's always willing to give a fellow student an answer for a homework or the PDF of a textbook. He genuinely cares about helping the people around him; it's one of the reasons he's dead set on becoming a social entrepreneur even if it means eschewing the considerable riches he could gain by pursuing a different career path.
He considers himself between working and middle class and receives $35,000 via scholarships. He also receives a few hundred dollars through a Pell Grant and other New York State grants.
Arriving at Stern, he was jolted by the spendthrift nature of his fellow classmates, who were constantly eating out, shopping for clothes, taking extravagant vacations and nonchalantly flashing their wealth and money.
"It's a bit of a culture shock," Alex said. "You hear terms that you don't know, like if someone brings up a high-end retailer, I don't know what that is generally. It doesn't say anything about who you are, and I wouldn't say people judge you for it, but it is a bit of an adjustment."
Some people in Stern even embrace the concept of Social Darwinism. It's not uncommon for someone to believe that after arriving at Stern, the field levels for all, regardless of where you've come from. Alex says that is often only true on the surface.
In some ways, the true cost of attending NYU if you are poor or truly middle-class is not the dollar amount but the opportunity cost you suffer. It's the lost sleep that leads to a worse grade. It's the Friday night dinner plans with your friends you have to skip. It's the knowledge that you have six figures of debt to pay off, gnawing on your mind before you go to sleep.
Though Alex knows that almost every Stern student works incredibly hard and hustles for every opportunity they get, he thinks many of them don't know how much of a boost coming from a well-off family can be.
"If your dad knows someone who can help you out with a work connection, you have to realize a lot of kids don't have that," Alex said. "The level of access to opportunities is the biggest thing about wealth. It's about the stuff you don't have to worry about; it's all the stuff you can do because you don't have to worry about money."
Read more from Washington Square News' Money Feature.
Email Sayer Devlin at [email protected]
About the Contributor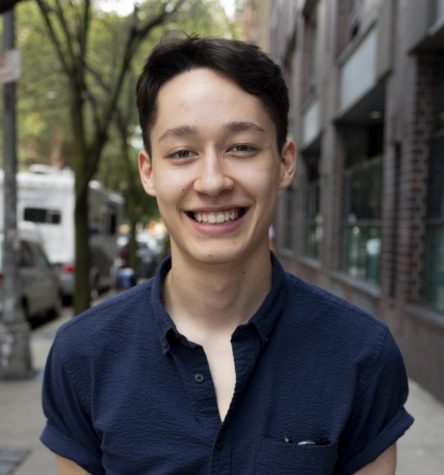 Sayer Devlin, Managing Editor
Sayer Devlin is an Economics major in CAS and loves reading Marginal Revolution and Toni Morrison. In his time at WSN, he's started the official podcast...