NRHH Lights the Torch for a New Beginning
NYU's Torch Chapter of National Residence Hall Honorary prides itself on being dedicated to recognition and service in the residential hall community, according to its president, CAS senior Daniella Azoulay, who has been a member since her first year at NYU.
This university's chapter of NRHH, which was founded in 2004, is "a premiere honorary for student leaders in residential communities," according to its mission statement. NYU's Torch chapter is associated with the North East Affiliate of College and University Residence Halls which is under the National Association of College and University Residence Halls. NRHH is a branch of NACURH, the largest student-run organization in the world, according to Azoulay.
Azoulay said NRHH's main mission to recognize student leaders is important to the campus community.
"It's a big problem when you have people working hard to better their communities because if they're not being recognized, it's easy for them to lose motivation," Azoulay said. "It's better to recognize those people to ensure that they are motivated and that others are inspired to produce such high quality work as well and to dedicate themselves to the community."
The most popular initiative of NRHH is "Of The Month," in which people and members of NRHH nominate a person from the residential community, which could be anyone from a security guard to an residential assistant for going "above and beyond" what is required of that person. There are also "Of The Year" awards.
"We are looking for people who put in 10 extra hours, picked up an extra shift [or] made something personal to give out to their co-workers," Azoulay said.
"
We've been working really hard to change our organization culture and create new and exciting opportunities to engage our membership.
— Daniella Azoulay, NRHH President
As president of NRHH, Azoulay presides over the General Assembly, runs executive board meetings, works one-on-one with the board and channels the organization's mission and history into goals and paths of progress.
"I help to steer the boat — if you will," Azoulay said.
Azoulay also interns for Senator Kirsten Gillibrand and works as an office assistant at Goddard Residence Hall, along with various other activities — advocating for animal rights and practicing Shotokan karate. In the spring, Azoulay will graduate with a degree in Environmental Studies. She cites NRHH as what helped her hone her leadership and public speaking skills.
"I would like to go into public service," Azoulay said. "I think I would want to be working in government or working for a nonprofit, specifically on an animal rights issue or the environment."
NRHH's members are involved in professional development as well as service and recognition-based activities. They are meant to be the "top one percent of student leaders," according to the organization's policy. The process of becoming a member is very lengthy. Applications open on March 5 and are followed by an interview, before selected candidates can finally be inducted into the NRHH. Members retain their membership for life.
Starting out in Rubin Residence Hall's council as its Director of Training and Development, Tisch sophomore Cristina D'Anna has stepped up to be NRHH's membership chair for this school year. As the membership chair, D'Anna single-handedly runs the application process and induction ceremony, handles membership requirements and determines the membership vision within the chapter.
"It's perhaps one of the most open, loving and supportive groups I've ever been a part of," D'Anna said. "We want everybody."
NRHH members must maintain a minimum grade point average of 2.75 and show exemplary efforts in recognition and service among the residential community. All members must have lived in a residence hall for at least one semester and be in good standing in the residential community. The NYU chapter of NRHH currently has 43 members.
The last few years have seen a slump in NRHH member involvement and engagement, which the organization is actively tackling.
"We've been working really hard to change our organization culture and create new and exciting opportunities to engage our membership," Azoulay said. "For this year, that meant creating new service opportunities and making service a forefront aspect of our organization, our chapter."
Azoulay said that the diverse service projects that NRHH pursues are invaluable to its members, from creating military survival bracelets to partnering with Kids Enjoy Exercise Now to encourage and help kids of various abilities to be active or play.
NRHH participates in two regional student leadership conferences under NEACURH and a national conference under NACURH. This year's Spring Leadership Conference takes place the weekend of March 4. Colleges and universities from the northeast region will send a delegation of students from the residential community. Inter-Residence Hall Council and NRHH members compose the NYU delegation.
"That's where professional development and networking get to occur," Azoulay said. "We get to hear about what residence life is like on other campuses, but we also get to attend and present programs."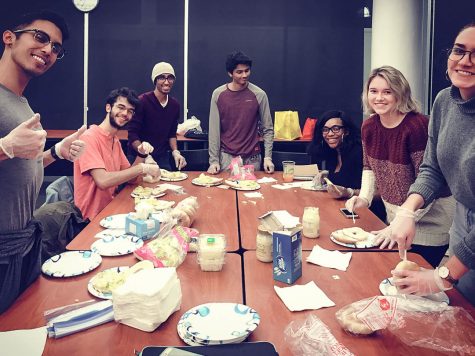 Programs are proposals by student leaders that champion certain initiatives, ranging from sustainability to diversity focused. There are also many opportunities to show #VioletPride, according to Azoulay.
"We get access to these resources from other institutions that not everyone has access to because these conferences are a pretty unique thing," Azoulay said.
In preparation, D'Anna said that NRHH has written bids to get awards for the executive board and case-studies. There is also an NRHH President's boardroom at the conference, in which legislation is passed for the chapter as a whole.
"Post-conference is more of a rundown and then what can we do better or what can we do for the next conference," D'Anna said.
IRHC also works with NRHH outside of conferences, as they coexist as the two university-wide residential life communities, according to D'Anna. IRHC's Vice President of Training and Development Tom Fogle acts as the link between NRHH and IRHC. When Fogle was elected to IRHC's E-board, he was automatically appointed to NRHH's executive board as national communications chair. As the communications chair, Fogle helps gather the group going to conference and what the group hopes to achieve at each of the three annual conferences.
NRHH has positively shaped both Azoulay and D'Anna's college experiences.
"I always loved recognizing others, but it's provided a focus and made it more clear on how I can do that in a constructive way," Azoulay said. "It's turned me into a student leader, and that's one of my core identities now."
Like many people living in residence halls, D'Anna has found her own niche through her previous residence halls and moreover NRHH.
"I found a sense of community and a sense of belonging with a group of people who all welcomed me the same way," D'Anna said. "I found a weird way to belong in Res Life [at NYU]."
Read more from Washington Square News' "Housing Guide 2018."
A version of this article appeared in the Housing Guide 2018 print edition from Thursday, Feb. 22. Email Jendayi Omowale at [email protected].