Stoneman Douglas Tragedy Shakes NYU
In the wake of the shooting at Stoneman Douglas High School in Florida, members of the NYU community have come together to grieve and work toward gun law reform.
Feb. 14 began the same as any other Wednesday for Randi Marnell. But when the Steinhardt first-year student exited her afternoon class, she was met with a deluge of alerts on her phone. Text after text appeared — more than she could count. Friends and family had been reaching out to her, all panicked.
Stoneman Douglas High School, which Marnell had called home for four years, had just experienced one of the deadliest school shootings in United States history. In total, 17 students and teachers lost their lives.
Marnell immediately began contacting as many people from Stoneman Douglas that she could: friends, teachers, acquaintances — anyone who might have found themselves caught in the gunfire. One after another, Marnell received confirmation of their safety. With each ping, a fraction of the weight on her chest was lifted. But as minutes passed, her former high school orchestra classmate had yet to respond. At first, Marnell assumed her classmate was simply caught up in the shooting's chaotic aftermath.
More time passed and still, no response. And then she saw it: a CNN alert confirmed the unthinkable. Her friend from orchestra, Carmen Schentrup, was among the 17 students who lay lifeless at Marjory Stoneman Douglas High School.
Carmen Schentrup, 16

Carmen was a National Merit Scholar semifinalist, one of only 10 Marjory Stoneman Douglas students to qualify for 2018 https://t.co/Bjh1T8tAR9 pic.twitter.com/wz6HX9PTLF

— CNN (@CNN) February 21, 2018
For many NYU students, this tragedy literally hit too close to home. According to university spokesperson Matt Nagel, more than 130 NYU students at the Washington Square campus hail from Broward County, home to Marjory Stoneman Douglas High School. The day after the shooting, these students received an email from Senior Vice President of Student Affairs Marc Wais offering condolences and Wellness Exchange resources.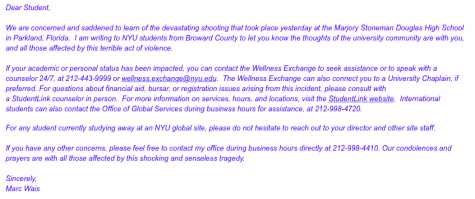 In a statement to WSN, university chief spokesman John Beckman aligned NYU with various universities across the country to promise high school applicants that their chances of admission will not be hindered by disciplinary action due to participation in a March for Our Lives school walk-out for gun law reform scheduled for 10 a.m. on March 24.
"Other than acts of violence, NYU does not consider any form of school disciplinary action as part of our admissions process," Beckman said. "Therefore we would not take account of school discipline in a circumstance of peaceful protest on a pressing matter of national debate."
2/2: Other than acts of violence, NYU does not consider any form of school disciplinary action as part of our admissions process. Therefore we would not take account of school discipline in a circumstance of peaceful protest on a pressing matter of national debate.

— New York University (@nyuniversity) February 25, 2018
Various NYU student groups have responded to the tragedy. On Feb. 19, the Brady Campaign to Prevent Gun Violence chapter at the NYU School of Law held an action hour to incentivize the law school community members to pledge to vote for gun reform in 2018.
According to Bretty Weinstein, NYU Brady Campaign chapter co-president, the chapter is also planning to collaborating with activists to support March for Our Lives on March 24 in Washington D.C. and at sister marches nationwide.
At the time of this article's writing over 8,000 Facebook users have expressed that they plan on attending the March for Our Lives sister march in New York City, including dozens of NYU students.
NYU Global Spiritual Life also collaborated with four other organizations to host a Vigil for Parkland on Feb. 22.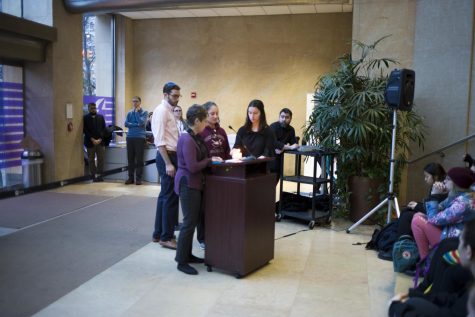 Stoneman Douglas alumnae Dakota Damiani, a Stern junior, and Elizabeth Hartley, a junior at the Fashion Institute of Technology, reflected upon the shooting to a solemn audience of over 100 people on the steps of the Kimmel Center for University Life.
In an address to the crowd, Hartley said she lived less than a mile away from Stoneman Douglas High School. She also echoed the rhetoric of March for Our Lives, the gun law reform movement created and lead by current Stoneman Douglas students.
"I am here grieving," Hartley said. "And asking that you help end gun violence."
Spiritual leaders from the Bronfman Center for Jewish Student life and the Islamic Center at NYU also provided spiritual guidance and spoke in favor of gun law reform.
"We need to understand that this is unfortunately probably not going to be the last time we gather on these steps in upcoming months," Islamic Center at NYU Associate Chaplain Sheikh Faiyaz Jaffer said. "What we saw is another manifestation of the evil and hate and vice found in the hearts of people."
Executive Director of the Bronfman Center Rabbi Yehuda Sarna specifically voiced opposition to President Donald Trump's call for increasing firearm presence in schools.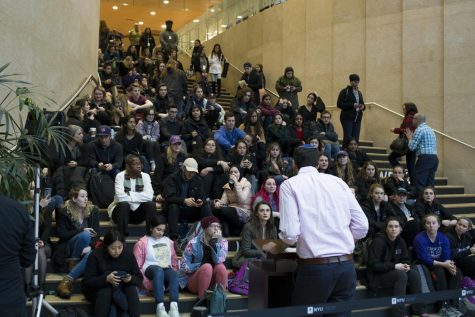 "There have been so many good guys without guns who have been killed by bad guys with guns," Sarna said.
The audience was stoic and attentive while each person spoke. However, during the moment of silence, emotions quickly came to a height. Sniffles and tears trickled down faces as rain tapped gently against the glass doors. The room brimmed with grief.
In an interview with WSN following the event, Hatley restated her commitment to ending gun violence.
"Enough is enough," Hartley said. "Let's follow the lead of the kids in Parkland."
A version of this article appeared in the Monday, Feb. 26 print edition. Email Mack DeGeurin and Caroline Haskins at [email protected].