Finding Mentorship at NYU Dentistry
By Sam Klein, Staff Photographer
March 9, 2018
Hang on for a minute...we're trying to find some more stories you might like.
When College of Dentistry alumnus Edly Destine first approached Marcus Johnson, another alumnus of NYU College of Dentistry, Johnson had no idea what was coming.
After Johnson spoke at a public school, where Destine was working as a teacher, Destine asked to keep in touch. Though Johnson was accustomed to people approaching him, something about Destine was different. They ended up driving back to New York together and have remained friends since. The American Dental Association featured both recently.
The two shared the keynote position at an NYU College of Dentistry Alumni and Students Networking Brunch on Sunday. At the event, they used their shift from mentorship to friendship as an example of how important connections like theirs can be.
Johnson, who now runs a private practice in Midtown, shared his personal motto with the audience: "Lift as you climb."
"Understand the value of mentorship," Johnson said. "Look to the individuals who are going to guide you. But once you reach a certain level, remember to turn that hand around."
Faculty and students collaborated to organize the brunch, which took place in Kimmel Center for University Life. In past years, according to Alumni Relations Officer Daisy Lee, they hosted an invitation-only event for third and fourth-year dental students.
The brunch expanded this year because Lee and student representatives agreed that it was an important opportunity. The goal, according to DDS Student Council Vice President Rachel Meshell, was to give NYU Dentistry students of all levels a chance to meet alumni and foster mentorships with them.  
"Mentorship is really important because each year, every day of dental school, you're learning something completely new," Meshell said. "It's like learning how to ride a bike if you've never done it before. You're learning how to do so many procedures in such a short amount of time, and it's so easy to feel overwhelmed."
Meshell said that one of her personal mentors, Clinical Associate Professor Ivy Peltz, has made an enormous difference in Meshell's development as a dental student.
"She's always there, if you're having a hard day, to talk to, or give you advice and help you find your career path," Meshell said. "She's been such a nice resource to have during my four years."
Once the keynote concluded, Senior Associate Dean for Development and Professor and Chair of the Department of Cariology and Comprehensive Care Mark Wolff spoke. He outlined future plans for alumnus-student relations, which include a career services online portal and a career center.
These are significant endeavors for a school with an enormous reach — NYU Dentistry graduates nearly a tenth of American dentists, according to its website, and its LinkedIn page has over 41,000 followers. An online portal and career center could create even more mentorship opportunities.
Since learning it from Johnson, Destine has taken the "lift as you climb" motto to heart. Though he now runs a private practice — just like his mentor — Destine has not forgotten his NYU roots.
"Today, I was talking to a young woman who was like, 'Hey do you remember I saw you when I was in my first year in college?' Now she's a second-year in dental school," Destine said. "It was like, wow, I actually connected with someone. It's working."
Email Sam Klein at [email protected]
Hang on for a minute...we're trying to find some more stories you might like.
About the Writer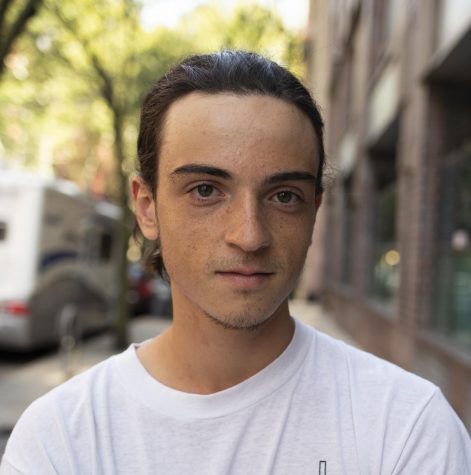 Sam Klein, Deputy Multimedia Editor
Sam Klein is a CAS sophomore studying Journalism and Environmental Studies with a minor in Studio Art. He runs for the NYU cross-country and track & field teams, which takes up most of his free time, but when Sam isn't busy he enjoys spending time outside, photography and following sports. He has been to 24...