Sheck Wes Paints the Town Rouge at Mystery Concert
Hang on for a minute...we're trying to find some more stories you might like.
Sheck Wes' discography could be heard ringing out around Bleecker Street last night as NYU students hauling large, portable speakers did some last minute studying for what would be a somewhat bizarre night at the university's annual Mystery Concert, headlined this year by the 19-year-old rapper.
Hosted by Program Board, the hundreds of students hoping to wave their NYU IDs for free entry to the show wrapped around the concert venue, (Le) Poisson Rouge, hours before the event was slated to begin — only the first 700 were allowed entry. The compact room was soon crowded with familiar faces beaming excitedly, and as the dance floor filled, overflow stretched to the back platform overlooking the stage where students craned their necks in hopes of snagging a slightly better view.
"I've been here since my last class ended," said Steinhardt sophomore Maria Wolf before the event, which officially began at 7:30 p.m. "It ended at 3:15 p.m., and [I] immediately ran down [to LPR]."
Though Wes, known for hits like "Mo Bamba," was the main headliner (and the reason many chose to attend), students also showed up for opening acts Japanese Breakfast and Venus X. The latter primed the crowd by reworking current hip-hop favorites by the likes of Drake, Migos and Lil Uzi Vert. Excited attendees jumped to the beat in unison, pulling out their phones to record each other bopping to 2018's top tracks.
But the fun was quickly brought to an end when enthusiasm turned to aggression in the form of several female students being crushed by audience members pushing closer to the stage. The New York native DJ called out to the crowd to take a step back. Then went on to say, "Boys, you're too strong for the girls. But you want to have sex with them later, so keep them safe." Though eliciting applause from the crowd, some female students were left confused by the comment.
The venue's atmosphere dramatically shifted once again when Lo-Fi pop act Japanese Breakfast replaced Venus X's raging beats. Frontwoman Michelle Zauner darted around the stage in reflective shorts, swinging her guitar as she crooned over past lovers through the lyrics, mellowing out the venue with ambient indie-rock tunes. Immersed in blue lighting, several fans hoisted their friends onto their shoulders to welcome the Philadelphia act.
"I definitely almost fell," said CAS sophomore Caterina Garcia. "But it was probably worth it."
The last to take the stage was the much-anticipated Sheck Wes, a native New York rapper who recently signed with Kanye West and Travis Scott. The up-and-comer was met with overwhelming praise as he stepped on stage; filling the room with chanting and wild excitement. Scheck delivered a youthful, colorful and fun set peppered with big hits and highlights like "Do That" and the aforementioned "Mo Bamba."  
"Sheck came on and all of a sudden there was this insane energy," Garcia explained. "Everyone was just dancing and vibing together. We could feel the excitement, we all hyped each other up. It was probably the strongest feeling of school spirit I've had."

Everyone got what they came for — dancing tirelessly through Wes's hour-long set. And even as the lights went up and the ushers manning the small venue escorted the hoards of NYU students from the building, Sheck's verses lived on; echoing through the halls as students walked away happily singing back what they'd just heard.
Email Nicole Rosenthal at [email protected].
Hang on for a minute...we're trying to find some more stories you might like.
About the Writer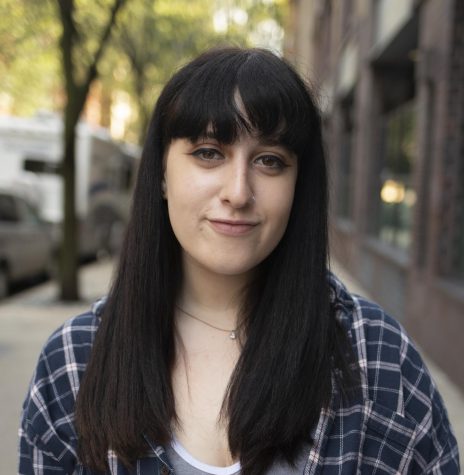 Nicole Rosenthal, Music Editor
Nicole Rosenthal is the Music Editor for the Washington Square News and a dual Journalism and Psychology major at New York University. Born and raised on Long Island, Nicole has always enjoyed listening to music and attending concerts in nearby NYC, making playlists which include everything from the B-52's to Brockhampton to Bon Iver. She...