Two Student Protestors Arrested at Rave for Israel's 70th Birthday in WSP
Hang on for a minute...we're trying to find some more stories you might like.
Zionist groups Realize Israel and TorchPAC organized a rave in Washington Square Park on Friday afternoon to celebrate the 70th anniversary of Israel's Independence Day. Members of anti-Zionist groups Jewish Voice for Peace and Students for Justice in Palestine gathered nearby to protest.
The anti-Zionist groups burned an Israeli flag, during which one member of JVP was arrested. Another member was arrested later on in the protest. As music from the rave blared on less than 50 feet away, they waved the Palestinian flag, chanting, "Displacing lives is '48, there's nothing here to celebrate," in reference to the Nakba, the mass emigration of Palestinians from their country starting in 1948 after Jews fled persecution in Europe to live in Israel instead.
NYU JVP and SJP were the first of over 50 student organizations to boycott Realize Israel and TorchPAC as part of the Boycott, Divestment, Sanctions movement. University President Andrew Hamilton decried the movement in a town hall meeting last week.
"We're not going to let them stand by and support Zionism," GLS sophomore and SJP President Khalid Abu Dawas said. "Our point is to make being Zionist uncomfortable on the NYU campus. They shouldn't be comfortable because the ideology of Zionism is antithetical to Palestinian liberation and Palestinian sovereignty at its core."
CAS first-year Sheelan Mirza held up the Palestinian flag with Abu Dawas and other protesters.
"It's not that we're advocating against Judaism," Mirza said. "We're advocating against the racism and the apartheid that is Zionism."
Meanwhile, in the thick of the rave, Stern sophomore and Realize Israel board member Bryan Buch said his organization is open to discussion, but the rave is not the place for it.
"When you have a birthday, you don't go out and you say, 'Oh, you remember when you did that?'" Buch said. "You just say congratulations."
A heavy police presence demarcated the Zionist and anti-Zionist groups, forbidding them from crossing sides.
As the rave drew to a close around 3 p.m., however, a protester snuck into the rave and disrupted the singing of the Israeli national anthem, grabbing the microphone from a student and shouting, "Free Palestine," until several police officers intervened and escorted him from the premises.
Realize Israel president Adela Cojab compared the holiday to the Fourth of July, agreeing with Buch that dialogue was not at the forefront of the rave.
"A lot of people from the other side say that we don't recognize nuance in this situation," she said. "Every single country has their own nuances, including the United States, but let's say a Fourth of July barbecue isn't the place to discuss it."
Cojab thinks members of the anti-Zionist clubs took their protest too far but were still within their rights.
"I think that [burning the flag] crossed the line a little bit," she said. "But again, they are all in their right to peacefully protest."
Formally known as Yom Haatzmaut, the nation's independence day was celebrated on April 19 this year, but the clubs did not hold the rave until today due to difficulties obtaining an event permit.
According to a Facebook post by Incarceration to Education Coalition organizer Amanda Lawson, two members of JVP and SJP were arrested at the event and will be appearing in an arraignment at the Manhattan Criminal Court. Lawson and other supporting NYU students will be showing their support for the arrested students at the Court building tonight at 9:30 p.m.
WSN will update the story as it develops.
Update, April 28, 1:30 a.m.: The student arrested for burning the flag arrived at the sixth precinct in the West Village around 1:50 p.m., according to a source from Jewish Voice for Peace. He is not believed to be facing any charges.
The student seen in the video is believed to face charges for petty theft of an Israeli flag. He arrived at the same precinct around 4 p.m., where both men remained until they were taken to the 100 Centre St. court for holding at around 10:30 p.m. They will remain in a holding cell there until their arraignment when the court re-opens Saturday morning.
17 student organizations created a Facebook event to rally support for the students facing arraignment. They will return to the courthouse Saturday at 9:30 a.m.
Update, April 28, 1:35 p.m.: Both students were arraigned in a courtroom in 100 Centre St. today and released on their own recognizance until their upcoming court dates in June.
The student arrested for burning the flag is facing charges for second-degree reckless endangerment and resisting arrest. His court date is set for June 1.
In a statement read to the court by a prosecutor, the student said, "You can't arrest me. It's free speech. There was no danger."
The other student arrested faces charges of disorderly conduct, robbery in the second degree, assault in the third degree and criminal mischief in the third degree.
His statement was reserved, and the people requested that he be remanded with bail set at $5,000. However, Judge Eileen Rakower, who presided over both cases, released the student on his own recognizance, given that he had no prior arrests and there were approximately 20 students in the courtroom supporting him, along with his father. His court date has been set for June 18.
One defendant was represented by Bina Ahmad of The Legal Aid Society.
Correction, April 28: A previous version of this article had the headline that JVP protestors were arrested during this incident, but only one of the students was a member of JVP. The headline has since been updated.
Correction, April 30: A previous version of this article said both defendants were represented by The Legal Aid Society. Only one was. An update misstated the legal representation of the defendants. The errors have since been corrected.
Update, June 10: For safety reasons the video embedded in this article has been replaced with a version that blurs the face of the student who took the microphone.
Email Sarah Jackson at [email protected]
Hang on for a minute...we're trying to find some more stories you might like.
About the Writer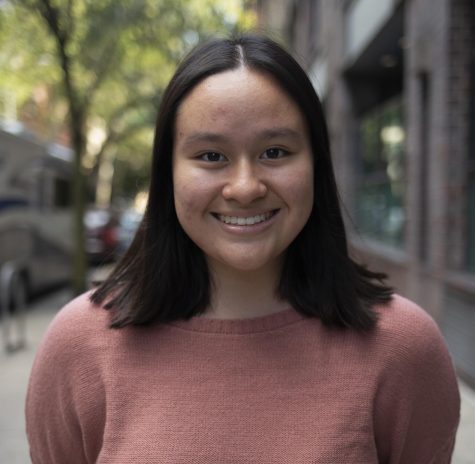 Sarah Jackson, News Editor
Sarah is a junior in CAS who has changed her majors more times than she'd like to admit. In her free time, she can be seen avoiding coffee, trying (but usually failing) to contain her excitement when she sees a corgi on the street and wishing she could afford to go to the opera more...